Awards presented at Marked Tree Chamber banquet
Friday, March 17, 2017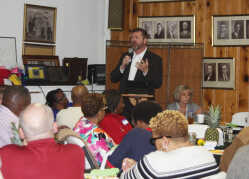 Several awards were given out during the Marked Tree Chamber of Commerce's annual banquet. Among them, Police Chief Michael Matlock was named Police Officer of the Year. "I've done my best to be a bridge builder," Matlock said. "I try to bring people together and be a voice for those who can't speak."
Pat and Keith Steele received a standing ovation when they won Citizens of the Year for the many years they have served the community of Marked Tree through education and volunteering. Other award winners were: Jimmy McDonald (Farmer of the Year), First Delta Bank (Business of the Year), and June Johnson (Chamber Member of the Year). And State Representative Dwight Tosh made a presentation of $1,000 of General Improvement Funds to the Three Rivers Food Pantry, which is run by Jim and Connie Huff.
The guest speaker was Neal Vickers, who serves as Executive Director of Economic Development for the Trumann Chamber of Commerce. Vickers spoke about the benefits of small towns--such as being able to buy more house for less money--and the importance of creating incentives to bring in new business. He identified several aspects of a community that attracts residents and businesses such as accessible healthcare, education, retail, elder care, telecommunications (broadband and fiberoptic), safe environments, recreation, and many others.
Vickers also spoke about the importance of identifying the things that make a community unique such as historic sites and river access. "Every community has a history and a story," Vickers said. "Are we exploiting ours?"
He also spoke the St. Francis washout, which has been repaired after six years and thanks to the work of many people including Vickers, Trumann Mayor Barbara Lewallen, and Congressman Rick Crawford. Vickers said the Corps of Engineers was able to get $4 million from Congress for the repair.
He said he has also been working with Arkansas Game and Fish Commission to designate ten miles of the St. Francis River as an Arkansas Water Trail to bring in kayak and boating tourism. "It's going to be an economic development generator for us," Vickers said.