Smith tosses shutout against Marked Tree
Thursday, March 23, 2017
Nolan Smith allowed only one hit to Marked Tree in a complete game effort as Bay pounded out 13 hits on their way to an 8-0 win last Thursday in Bay.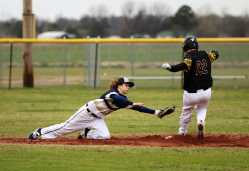 Smith retired Marked Tree in order in the top of the first inning as Kentarius Allen struck out as Aaron Hutchens and Gavin Lowry both grounded out. Bay plated two runs in the bottom of the first as Smith doubled after Quentin Francomano struck out. Pinch runner Christian Herrera scored when Taylor Layne doubled. Caleb Hartgen flew out as Nathan Higgins singled to score courtesy runner Jordan Jackson making it 2-0 Bay. Jimmy DuVall grounded out for the third out. Chaz Simmons grounded out leading off the top of the second inning for Marked Tree as Nick Kinney struck out. Eli McCrary singled before going to third on an errant pick-off throw from Smith. Justin Lowry drew a walk as both runners were left on when Jackson Parrish grounded out. Layne Austin singled for the Yellowjackets leading off the bottom of the second inning. Tyler Hartgen flew out before Quentin Francomano reached on a fielder's choice that forced Austin at second base. Dylan Creech flew out for out three leaving the score at 2-0 Bay.
Full game story in March 23 edition of PCDT!