Craig tosses perfect game in Bearcat Blast opener
Thursday, March 23, 2017
Hannah Criag faced the minimum nine batters during the Lady Wildcats' 15-0 opening round win over Forrest City during tournament action this past weekend at the Southside Softball Complex in Jonesboro.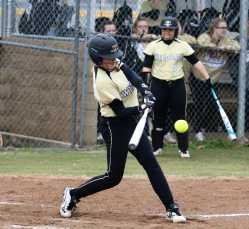 Craig struck out the side in the top of the first inning as the Lady Wildcats scored one run in the bottom half of the inning. Lexi Jackson walked to lead off and went to second on a passed ball. Anna Waleszonia singled before Olivia Greenwell walked to load the bases. Daly Taylor lifted a sacrifice fly to score Jackson making it 1-0 Trumann. Maddi Payne flew out before Criag grounded out to end the inning.The Lady Mustangs went three up and three down in the top of the second inning with a pair of stirkeouts around a ground out. The Lady Wildcats sent 17 batters to the plate and scored 12 runs in the bottom of the second inning. Kendall Pruitt and Misty Moye were both hit by pitches before Sydney Callahan was walked to load the bases. Jackson drew a walk to score Pruitt, Waleszonia walked to bring in Moye as Greenwell singled to playe Callahan and Jackson making it 5-0 Trumann. Taylor singled to score Waleszonia and Greenwell as Payne drew a walk. Craig's double scored Tayor and Payne pushing the Lady Wildcats' lead to 9-0. Pruitt drew a walk, Moye singled to score courtesy runner Baley Williamson, P ruitt scored on a passe ball before Moye was caught stealing making the score 11-0. Callahan tripled and scored on a ground out by Jackson. Waleszonia walked and stole second before scoring on a single by Greenwell to make the score 13-0 Trumann. Taylor was hit by a pitch as Payne popped out for the third out.
Full game article in March 23 edition of the PCDT!