Lady Indians beat Hoxie in tournament play
Thursday, March 23, 2017
Marked Tree' Naysha Moore scored on a wild pitch in the bottom of the fifth inning to give the Lady Indians a 4-3 win over the Lady Mustang this past Saturday in second round play of the Bearcat Blast being played in Jonesboro. Marked Tree lost their opening round game 16-0 to Brookland this past Friday night.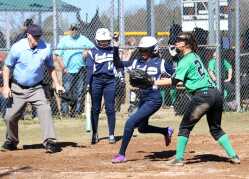 Hoxie scored on an error in the top of the first inning to take a 1-0 lead as Marked Tree plated three runs in the bottom half of the inning. Taylor Hannah grounded out before Tiana Morris singled, went to second on a passed ball before stealing third. Harley Daniels drew a walk a courtesy runner Moore came on. Morris scored on a passed ball before Dunn reached on an error that scored Moore making it 2-0 Lady Indians. Brittany Pharis grounded out, Dunn came in on a passed ball only to see Sydney Rotscheid ground out to end the inning with Marked Tree up 3-1. Hoxie lost a chance to score as their lead off batter singled and stole second base before the next two batters struck out. The second strikeout had to have a throw to first and when it did the runner on second broke for third and was thrown out. Megan Lowry stuck out but reached first on a missed ball by the catcher only to thrown out at second on Dejania Thomas' single. Angel Barnes struck out and Hannah grounded out to end the inning with Marked Tree still up 3-1.
Pick up a copy of the March 23 PCDT for full game details!