Lady Warriors beat Newport to win title at Blast
Thursday, March 23, 2017
EPC (4-4) scored runs in all four innings on their way to an 8-4 win over Newport to take the championship trophy in the White Division this past Saturday in the Bearcat Blast at Southside Softball Complex.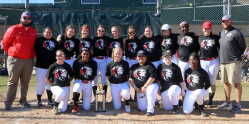 Newport got on the board first with a run in the top of the first inning to take an early 1-0 lead. EPC scored two runs in the bottom of the first as Sarah Tacker reached on error before Bailey Constant drew a walk. Both runners moved up on a passed ball as Tacker scored on Meagan Allen's ground out to make it 1-1. Jordyn Brewer singled to plate Constant making it 2-1 Lady Warriors. Jaleigha Garrett struck out before Madison Wiggins singled only to be thrown out trying to steal second base ending the inning. The Lady Greyhounds coaxed a two-out walk only to leave the runner stranded in the top of the second inning. Ramissa Acosta popped out for EPC leading off the bottom of the inning. Amber Pate reached on an error before Kurstin Bryan, Tacker and Constant all singled with Pate scoring on Constant's single to make the score 3-1 Lady Warriors. Allen's fielder's choice forced Tacker out but plated Bryan before Constant scored on a passed ball making it 5-1 EPC. Brewer grounded out to end the inning.
Complete game story in March 23 PCDT on newsstands now!