Local EMT named Arkansas Star of Life
Monday, March 27, 2017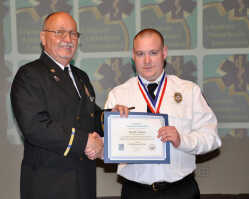 Daniel Vaughn was recently named a 2017 Arkansas Star of Life for dedication to EMS. Daniel Vaughn serves as a paramedic with Riverside Ambulance Service.
Daniel began his EMS career nine years ago when he became an EMT at the age of 18. After receiving his EMT certification, Daniel decided to further his career in EMS and became a paramedic in 2014. Daniel always knew that his calling was in EMS as a young kid. Daniel plans on furthering his career eventually.
He is employed at Riverside Ambulance where he has served four years as a paramedic. Daniel always goes over and beyond his call of duty for patients and families he encounters on a daily basis. He has been a mentor for a lot of people in the profession and is always eager to teach his knowledge to others. Daniel is well-known for his outstanding work effort and patient care. Daniel also serves as a police officer in his home town of Lepanto. Daniel's co-workers describe him as a guy everyone can always count on for help, whether it's covering a shift or helping with patient care, even on his days off. Riverside Ambulance employees stated there is no other person more deserving for the Star of Life award.
The Stars of Life program is a special event conducted by the Arkansas Ambulance Association in cooperation with the American Ambulance Association. On Tuesday, March 14, individuals from across the state gathered in Little Rock for a day of activities recognizing their heroic and commendable actions as part of the emergency medical services (EMS) system. Each Star was recognized in a ceremony held at the State Capitol. Honorees and their sponsors spent the day learning more about the state's EMS system, visiting with key stakeholders such as industry leaders and law makers, and the Stars were honored at a luncheon.
The purpose of the Stars of Life program is to raise awareness of the value of emergency medical services (EMS) and to educate state leaders and others on the importance of strengthening the public safety net.