Wilcox talks need for more CASA volunteers
Monday, March 27, 2017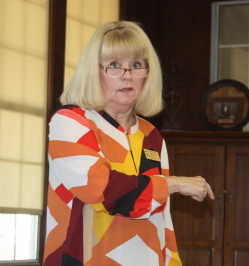 CASA (Court Appointed Special Advocates) volunteers advocate for children in the foster care system. They act as both the court's eyes and ears as well as a voice for the children to make sure they are placed in the situation that is best for them. Within the Second Judicial District, Poinsett County accounts for 22 percent of the children in foster care but only has seven percent of the CASA volunteers. Advocate Coordinator Cathey Wilcox is working to increase those volunteer numbers in the county.
Wilcox recently spoke to the Trumann Lions Club about CASA. She said volunteering with CASA has been one of the most fulfilling things she's done. She became a full-time advocate coordinator in February.
Nationally, CASA has 955 organizations and 77,000 volunteers who serve 250,000 children in foster care. Wilcox said that nationwide, there are over 700,000 children in the foster care system. In Arkansas, Wilcox said there are 23 CASA organizations that are able to serve 1,500 of the state's 4,500 foster children.
The local CASA serves Craighead, Greene, Mississippi, Poinsett, and Clay counties. In this district, there are over 600 children in the foster care system but only 80 CASA volunteers. And while Poinsett County accounts for only about ten percent of the total population for the district, it accounts for 22 percent of the district's foster children. Wilcox said CASA is constantly in need of more help but especially in Poinsett County. The district is targeting Poinsett County to get volunteer numbers up and has opened a branch office in-county in The Green Frog in the courthouse square in Harrisburg.
Wilcox said CASA advocates go through training, have a mentor, and are able to pick the cases they want to work on. Advocates take one case at a time, which makes them the one person in court who is focused solely on that case. The judge also signs a court order assigning the advocate to the case. "That court order gives you legal access to more records than the attorneys or DHS have access to," Wilcox said.
Then, the advocate gets to work visiting the child, foster parents, family members, DHS, the attorneys, school officials, and reviewing records. And they always have their mentor to back them up when needed. "The average case takes 10-15 hours a month," Wilcox said. "You'd be surprised how much you can get done in that time."
Advocates also attend court hearings related to the case, which are usually held every three to six months. Before a court hearing, the advocate prepares a court report, which will be entered as evidence. "This is your best tool," Wilcox said. "The judges read these reports. In the report, you'll make your recommendations, and those recommendations can be very powerful." Wilcox added that CASA recommendations can often hold more weight than those of DHS or the attorneys involved because they don't see the child regularly, while the CASA advocate does. An advocate stays with a case until the child finds a safe, permanent home, which may be with the parents or may be through adoption. Wilcox said the judges take CASA's recommendations 80-90 percent of the time.
Anyone interested in volunteering with CASA can contact Wilcox at 870-897-2020 or by e-mail at cathey.wilcox@neacasa.org.