Lady Indians fall to Manila on walk-off hit
Thursday, March 30, 2017
Marked Tree scored two runs in the top of the seventh inning to tie the game at 6 only to see Manila get a walk off single in the bottom half to take a 7-6 win over the Lady Indians this past Monday in Marked Tree. Manila was the home team due to a location change because of the weather.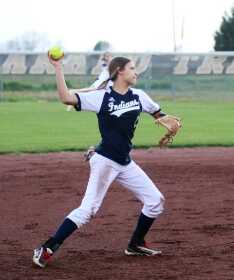 The Lady Indians got on the board first with a run in the top of the first inning. Ally Byers led off with a walk before Tiana Morris popped out. Harley Daniels' fielder's choice grounder forced Byers out at second. Cam Willoughby singled before her and courtesy runner Naysha Moore moved up on a wild pitch. Moore scored a little later on another wild pitch before Bailey Dunn was hit by a pitch. Taylor Hannah struck out for out three with Marked Tree up 1-0. Madison Bibbs went down looking to start off the bottom of the first for Manila as Taylor Hampton was hit by a pitch. Ashley Rothwell's fielder's choice grounder forced Hampton at second base before Tessa Pannells reached on an error that scored Rothwell making it 1-1. Hannah Teague followed with a single that plated Tessa Pannells to give the Lady Lions a 2-1 lead. Jill Helton lined out to end the inning.
Full game article in March 30 edition of PCDT!