Late runs propel Hornets to victory
Thursday, March 30, 2017
It was a classic pitcher's duel between Harrisburg's Zach Biggers and Trumann's Garrett Woods for the the first five innings. The Hornets (8-4) plated three runs in the bottom of the six to break a 1-1 tie sending the Harrisburg to a 4-1 win over the Wildcats (2-7) this past Tuesday in Harrisburg.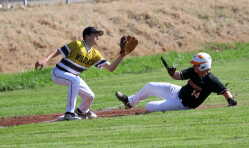 Trumann went three up and three down in the top of the first as Cade Gartman flew out, Will White was caught looking at strike three and Woods grounded out. The Hornets also went down in order in the bottom of the inning as Jordan Hindman grounded out, Brady Castle struck out looking and Jaxson Hawkins grounded out keeping the score 0-0. John Dunman drew a walk to lead off Trumann's top of the second inning as Jarred Carter flew out. Blake Liles' fielder's choice forced Dunman at second only to see Jackson Walton fly out for out number three. Walker Brown doubled for Harrisburg to lead off the bottom half of the inning as he was left stranded when Biggers and Clay Wright both struck out looking and Dylan Mathis grounded out as the score stayed 0-0 after two innings.
Complete game article in March 30 edition of PCDT on newsstands now!