Dr. Dow returns to Trumann
Tuesday, April 4, 2017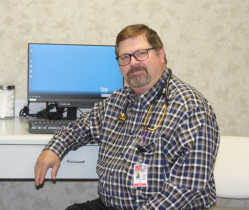 Dr. Timothy Dow started his career in Trumann, and now after nearly 30 years he has returned as primary care physician at the newly opened St. Bernards First Care.
Dr. Dow grew up on a dairy farm in western Arkansas in the Fort Smith area. His dad worked at Fort Chaffee until it closed. When that happened, he went to work for the Corps of Engineers, and the family traveled all over. They ended up in Oklahoma, where Dow attended the University of Oklahoma for college and medical school.
Dr. Dow said he decided on his career path when he was in the seventh grade. "It was in Sunday School class," Dr. Dow said. "Our Sunday School teacher was a pharmacist, and he said, 'I don't want what happened to me to happen to you. If there's something you really want to do with your life, start now.'" His teacher had told them about how he had wanted to be a doctor, but he had partied instead planning his future, so when it came time to apply for medical school, he didn't get in. "He looked over at me and said, 'Have you ever thought of being a doctor? You could do it.' I had always thought about being a coach, but being a doctor seemed neat. I lived in a town about the size of Harrisburg, and we had country doctors who did basically what I do now," Dr. Dow said. After that, Dow started taking math and science classes to focus on becoming a doctor.
After finishing his family practice residency in Tulsa, Okla., Dr. Dow was assigned to Trumann as part of his scholarship. The National Health Service Scholarship he received required he serve three years in a medically underserved community. So he came to Trumann in 1985, and during that time he met LeAnn Hodges, who would become his wife. Dr. Dow said they moved out of state briefly but were homesick, so they came back and settled in Jonesboro. After working at a practice on Windover for 25-plus years, Dr. Dow felt it was time to slow down. He took a two-year contract serving as a physician for the Choctaw Nation in Oklahoma and loved it. When that contract was up, Dr. Dow started looking for something in Northeast Arkansas so they could be closer to LeAnn's family. He found out about the St. Bernards Family Practice Clinic opening in Trumann and knew that was where he wanted to be.
Dr. Dow said it doesn't feel much different since he's been away. "A lot of my patients here came with me when I went to Jonesboro," he said. "Most of the patients I've seen since coming back are patients from my old practice. Some are from here. About half of my practice drives down from Jonesboro."
Dr. Dow said he enjoys helping people, and even though he's not from here originally, he feels he can connect with people. "Most of these people came from the same kind of background I came from. You can empathize with and understand them," Dr. Dow said. He also said a big part of working in medicine is knowing what can go wrong and trying one's best to do no harm. "They're not paying us for a prescription. They're paying for medical advice. You help people, and you don't do harm. The human body is wonderful at healing. We try to help you feel better while you get better," he said.
St. Bernards First Care is located at 1300 Industrial Park Drive and has been open for three months. There is currently some construction going on at the site as the physical therapy center, which is currently in a temporary building, is being added on to the clinic. The clinic is open from 7 a.m. to 4:30 p.m. Monday through Thursday and until noon on Friday, primarily for acute illness. On Mondays through Thursdays, they take walk-ins from 7-9 a.m. and do appointments the rest of the day.