Warriors fall on the road to Riverside
Thursday, April 6, 2017
EPC jumped out to an early 1-0 lead before a five run fifth inning by Riverside was too much to overcome as the Warriors lost 7-1 to the Rebels last Wednesday in Lake City.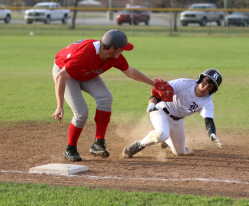 Kern Kline led off the game with a single for EPC as Chanc Gray followed with a single. Hayden Malone's infield single loaded the bases as Peyton Phillips drew a walk to score Kline making it 1-0 Warriors. Hunter Taylor popped out, TySean Garrett looked at strike three with Hank Knapp's grounder forcing Phillips at second for the third out. Nichols lined out leading off for Riverside before Izzy Garcia popped out. Gavin Stone walked and stole second before Larry Tilley struck out to end the inning with the score 1-0 EPC. Jordan Smith grounded out leading off for EPC in the top of second as Trey Howard coaxed a walk. Kline flew out as Gray and Malone each walked to load the bases for the Warriors. Tilley took over on the mound for Riverside as Phillips popped out to leave the bases loaded. The Rebels sent nine players to the plate scoring five runs to take a 5-1 lead. Dillon Turner walked as Matthew Fraser singled to put runners on first and second. Cannon Smith struck out, Braden Overman walked to load the bases as Charlie McClure walked to bring in Turner tying the game at 1. Nichols singled to score Fraser and Overman before Garcia's groundout scored McClure to make it 5-1. Stone walked as Tilley flew out to end the inning.
Full game story in April 6 edition of the PCDT!