Harrisburg JV gets 10-9 win over Wynne JV
Thursday, April 6, 2017
Harrisburg JV came up just short against Wynne JV falling 9-8 in the second game of a JV doubleheader this past Friday in high school softball action in Harrisburg.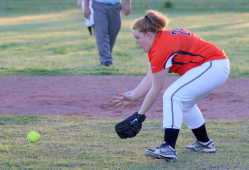 Wynne sent five batters to the plate in the top of the first but didn't score any runs. Abby Edwards drew a walk for Harrisburg leading off and went to second on a wild pitch. Kenzie Douglas walked before Edwards stole third base. Edwards scored on a passed ball to make it 1-0 Lady Hornets as Emily Armstrong popped out. Douglas was forced at second on a fielder's choice from Hayden Hopkins as Melanie Jackson reached on error. Hopkins scored on a wild pitch to make it 2-0 Harrisburg as Cassie Armstrong was hit by a pitch and Cassidy Howard walked. Kristin Vanaman was hit by a pitch that plated Jackson making it 3-0 only to see Carly McCrary watch strike three to end the inning.
Pick up a copy of the April 6 PCDT for full game story!