Bay takes 10-2 win over Wildcats
Thursday, April 6, 2017
Bay (7-4) jumped out to an early 2-0 lead before adding five more runs to down Trumann (2-10) 7-1 in high school baseball action this past Monday in Bay. The game was originally scheduled a Trumann but a wet field forced the move the Bay. Trumann was the home team in the game.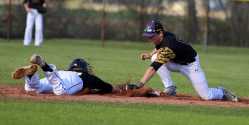 Dylan Creech led off with a walk for Bay and scored when Nolan Smith laced a triple down the right field line making it 1-0. Taylor Layne popped out, Caleb Hartgen singled and stole second before Nathan Higgins went down looking. Herrera scored on a passed ball as Caleb Hartgen was thrown out trying to steal third base for out three. Cade Gartman tied the game at 1 with a solo homerun leading off for Trumann. Blake Liles was hit by a pitch as John Dunman flew out. Jackson Walton struck out looking as Liles was called out for leaping over the fielder at second base trying to avoid the tag on a steal attempt to end the inning. Bay went down in order as Tyler Hartgen singled to lead off before getting thrown out at second on a bunt by Jordan Jackson. Jackson was thrown out trying to steal second before Garrett Woods came on to pitch for Trumann. Jimmy DuVall struck out for out three. Will White watched strike three leading off for the Wildcats as Jesse Penter followed with a ground out. Jake Roberts struck out but got to first after the catcher missed the ball only to see Chan Weitkamp ground out to end the inning with the score still 1-1.
Complete game article in April 6 PCDT!