Gray signs with Williams Baptist College
Thursday, April 6, 2017
EPC's Chanc Gray signed his letter of intent to play baseball for Williams Baptist College (WBC) this past Thursday in front of family, teammates and friends at the Michael Pierce Gym in Lepanto.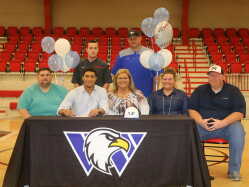 Gray was all smiles after the ceremony. "I'm really excited to get this behind me. I've worked hard and have been waiting my whole life for this. It's been a dream of mine since I was eight years old," Gray said. "I'm excited to be going to Williams Baptist. I went and visited and for a tryout and they offered me that day. I felt really comfortable while I was here, it felt like home," Gray added. Gray, a three sport athlete for the Warriors, had offers from Lyon College to play football and from Central Baptist College to play baseball.
EPC head baseball coach Adam Chamberlain had nothing but praise for Gray. "You can't get a better athlete or kid than Chanc. He's willing to do whatever is asked of him and he puts in the work. He's the hardest worked I've had since I've been at EPC," Chamberlain said. "They won't find a better player in Chanc Gray," Chamberlain added.
Stephen Abanathy, head baseball coach at WBC, knows what type player he is getting with Gray. "I'm getting a good high character kid who works hard. After playing against him last year, I knew what type of player he was," Abanathy said. "We can't wait to get him and get him started on strength and conditioning along with our long toss program," Abanathy added. "He loved the facilities and the coaches when he came to visit with us. Chanc can pitch or play the infield or outfield. I love kids like that and that is the type of kids I want to recruit. He fits into the WBC philosophy," Abanathy said.
Williams is a four-year, Christian, liberal arts college located at Walnut Ridge, Arkansas. WBC is a Christ-centered institution, long known for its warm and caring atmosphere and its personal attention to students. Williams offers over 25 majors covering a wide array of career options.