Arbor day celebrated with first tree at new elementary
Friday, April 14, 2017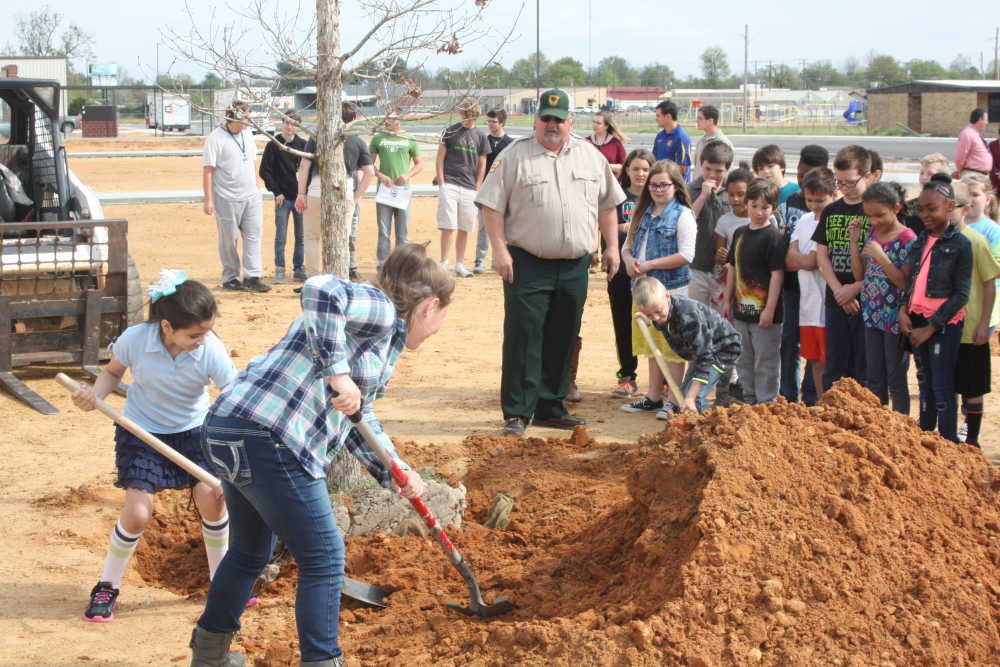 (DT Photo/Corey Clairday)
After some rescheduling due to rain and Spring Break, the city of Trumann celebrated Arbor Day on Monday, April 10, with the planting of the first tree at the new elementary school.
Elementary students and community members gathered for the tree planting, and Superintendent Myra Graham told them Nabholz Construction is close to finishing the new building, which will be called Trumann Elementary School. Mayor Barbara Lewallen presented a proclamation passed by the city council declaring Arbor Day, and Thomas Lindsey with the Arkansas Forestry Commission presented the mayor with a plaque declaring Trumann part of Tree City USA.
Lindsey told students that being a Tree City "means you take pride in your community. It means you take pride in the trees you have here and take care of them." In order to be part of Tree City USA, cities must have a Tree Board, a tree care ordinance, a Community Forestry Program with an annual budget of at least $2 per capita, and hold an Arbor Day observance with a proclamation. There are over 3,400 Tree City communities. Lewallen said Gary Martin, who is on the Tree Board, had counted all the trees in Trumann and found there are 14,572 trees in the city.
Trumann FFA students assisted the Forestry Commission with the initial placing of the tree, and afterward all the students present got to help with the planting by placing one shovel of dirt each.