Burnette talks incentive plans
Friday, April 21, 2017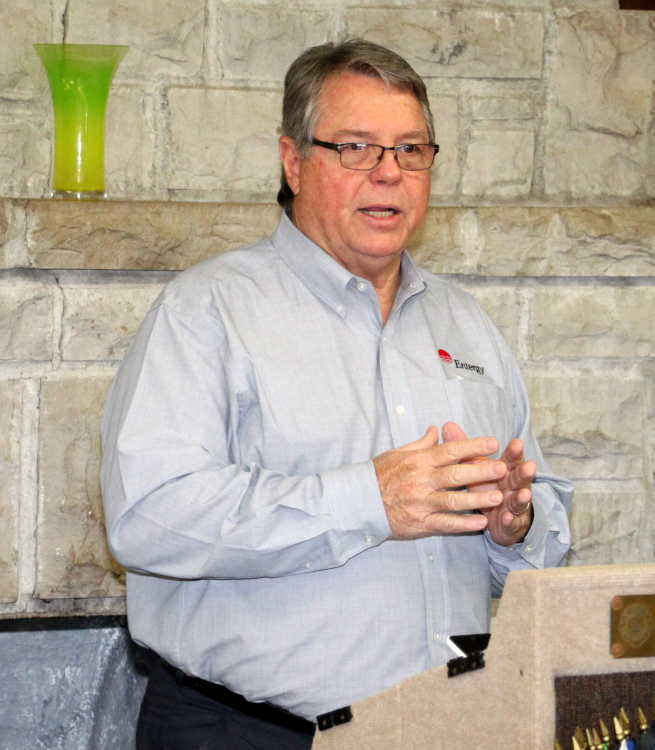 DT Photo/Anthony Cossey
David Burnette, District Representative with Entergy, was the guest speaker at the Trumann Lions Club's weekly meeting last Wednesday.
Burnette has been a friend of Trumann for many years having helped get monies for several projects that include the Community House, Maxie Theater, TRC building, and the homeless shelter, just to name a few. "I've enjoyed being able to help in any way I can for the residents of Trumann," Burnette said.
The main focus for Burnette at the meeting was to tell the group about the incentive plan that Entergy is offering to their customers. Burnette told the group that Entergy offers weatherization for the winter and summer months, and this is offered to residential, commercial, and industrial customers of Entergy. "All you have to do is make an inquiry. We will come out and do an evaluation to see what needs to be done, at no cost to you. We may find that there are multiple projects we can do. We are fuel neutral as what we can work with. Entergy will pay for the bulk of the bill if you have work done, leaving the customer with little to pay," Burnette said.
Burnette gave an example of how energy savings works. "You take a 100 watt bulb that is producing 100 lumens and change to a 50 watt bulb that produces the same 100 lumens, and you have energy saved," Burnette said. "When a factory does a retro fit--change to LED lighting and more efficient air compressors--we have written checks to them in the amount of 50-75 percent of the cost of the job," Burnette said.
Another example Burnette gave was the work they did for Williams Baptist College (WBC). "They did our Cool Saver Program. They have 50-70 air units on their campus. Our analyst checks them out, if they are supposed to be a 10.5 SEER, we clean them and make sure they are at 10.5 SEER when we are done. WBC is very happy with our work, and we can do the same thing in houses," Burnette said.
In closing, Burnette answered questions from the group. "We still do attic insulation, storm windows, and levelized billing," Burnette said.