Hindman tosses no-hitter against Osceola
Sunday, April 30, 2017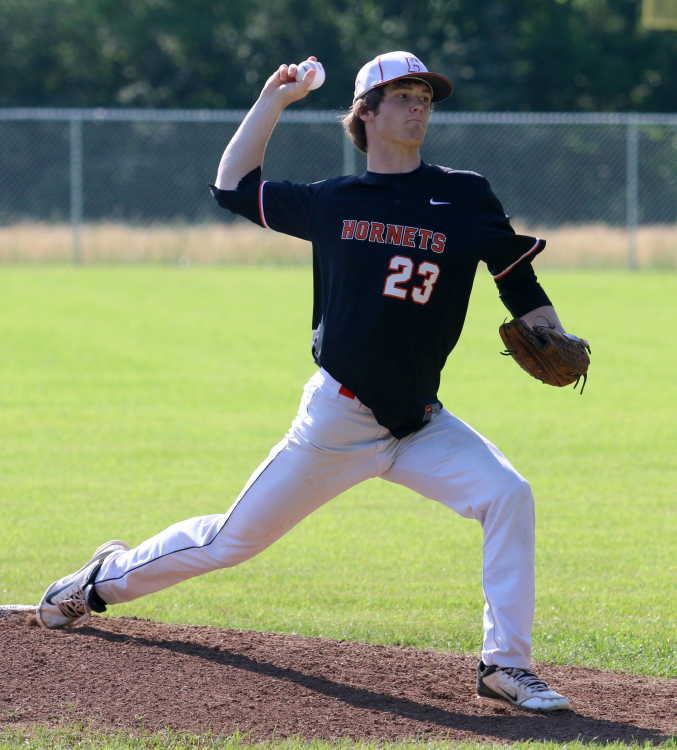 Jordan Hindman struck out nine of the ten batters he faced on his way to a no-hit performance as the Hornets beat the Seminoles 19-0 this last Thursday in high school baseball action in Harrisburg.
Osceola went down in order as Hindman struck out the side in the top of the first inning. The Hornets sent 25 batters to the plate in the bottom half and scored 19 times. Brady Castle led off with a walk before stealing second and third as Hindman was hit by a pitch. Jaxson Hawkins was hit by a pitch to load the bases as Chris Wiggington singled to score Castle and Hindman making it 2-0 Harrisburg. Robin Hanke singled to score Hawkins before Dylan Mathis doubled to plate Wiggington and Hanke make it 5-0 Hornets. Zach Biggers drew a walk, Clay Wright doubled to drive in Mathis and Biggers as Walker Brown doubled to score Wright making it 8-0 Harrisburg. Castle walked and Hindman singled to reload the bases before Hawkins was hit by a pitch to bring in Brown. Wiggington walked with Castle scoring, Hanke walked with Hindman scoring and Mathis walked to score Hawkins making it 12-0 Hornets. Biggers popped out for the first out, Wright was hit by a pitch to score Wiggington, Brown walked to score Hanke as Castle singled to plate Mathis to make the score 15-0 Harrisburg. Hindman drew a walk to score Wright, Hawkins reached on an error that allowed Brown to score before Wiggington singled to plate Castle making the score 18-0. Hanke struck out, Mathis reached on an error that scored Hawkins making it 19-0 as Biggers popped out to end the inning.
Hindman struck out all three batters he faced in the second inning as the score stayed 19-0 Harrisburg. Austin Carter struck out leading off the bottom of the second inning for the Hornets as Jamason King struck out looking. Caleb Neal struck out to end the inning. Osceola's lead-off batter got on via a Harrisburg error as Hindman struck out the next three batters to end the game via the run rule.
Wiggington had two hits, two runs scored and four RBIs to lead the Hornets at the plate as Mathis had a hit, two runs scored and three RBIs. Wright had a hit, two runs scored and three RBIs, Hanke had a hit, two runs scored, two RBIs and a stolen base, Hindman had a hit, three runs scored and a RBI with Castle having a hit three runs scored, a RBI and two stolen bases. Hawkins scored two runs with a RBI, Brown scored a run with a RBI as Biggers added a run scored.
Hindman pitched all three innings allowing no hits.