Weaver gives update on Stepping Stone Sanctuary
Friday, May 5, 2017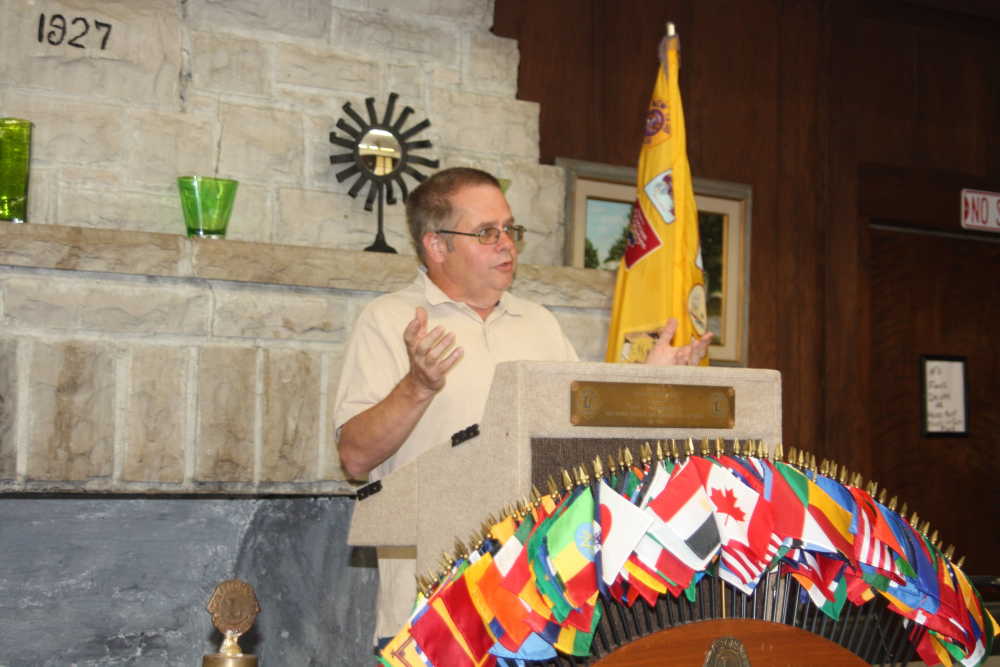 After just over a year in operation, Stepping Stone Sanctuary has grown faster than anyone imagined. "This thing called Stepping Stone, I can't explain how fast it's grown," said Director Jeff Weaver. Weaver spoke to the Trumann Lions Club about the organization recently.
Weaver, who also serves as pastor of First United Methodist Church of Trumann, is chaplain for the sheriff's office, and a reserve officer for the Trumann Police Department, said the idea for Stepping Stone Sanctuary grew out of the community garden begun in 2015. "I never dreamed when God placed the mission on us to start the garden how far it would go," Weaver said. Weaver found a homeless woman sleeping near the garden one night and decided he wanted to help get people off the streets. Stepping Stone's facility opened on Speedway in 2016.
Stepping Stone Sanctuary runs a kitchen, a food bank, offers shelter for the homeless, and provides emergency food boxes. Weaver said they serve three meals a day--breakfast and dinner are for residents, but lunch is open to anyone in the community. At lunch, they currently serve over 2,000 meals a month. When they do food handouts, Weaver said there is a line of cars down the street. The last handout, Weaver estimated they gave out 8,000 pounds of food, and they pick up regular food donations from places such NEA Food Bank, Walmart, Aldi's, Red Lobster, Longhorn Steakhouse, and Starbucks. Weaver said they gave out around $200,000 worth of food last year and are currently at around $400,000 worth of food this year.
For residents, they drug test and have onsite counseling, which is mandatory if they live at the shelter. Weaver said they have had many successes, citing the first person who came in--who is now manager of Aaron's and has his own apartment--as just one of those. "With every success, we change a life and get someone back on their feet," Weaver said. Weaver said they have had luck helping people find employment thanks to businesses in town like Valero and TruCab.
As far as future expansion, they are in talks with Focus to acquire their building after Focus moves to a new location. It's not set yet, but if that deal goes through, they would have the entire corner of Speedway and Ellis along with the pavilion across the street from which their distribute food on their food handout days.
While they are looking at grants, Weaver said grants cannot be used for operating expenses, and they depend on the community and fundraising for those. "We run at an 8.7 percent overhead cost," Weaver said, "so out of the donations we receive, almost 91.5 percent goes back to the community."
"I encourage people to spread the word and come out to volunteer," Weaver said. "I've got good people up there right now getting up, going to work, trying to get on their feet. Every time one of you come in, talk to them, and encourage them, it helps." Weaver also said many of the people who are helped by Stepping Stone turn around and volunteer there to help others.
Stepping Stone Sanctuary is also holding a Community Day of Health on May 20. Weaver said they will have two bike rides that day--one is a 55-mile ride for bike clubs they are working with, and the other is a 15-mile ride. They will also have activities at the pavilion across the street from Stepping Stone such as an obstacle course, barbecue cookoff, and a horseshoe competition. They will give tours of the facility and end the day with a food handout to show people how they do it.
"We have been blessed," Weaver said. "God is working too fast."