Edna Goff
Tuesday, May 9, 2017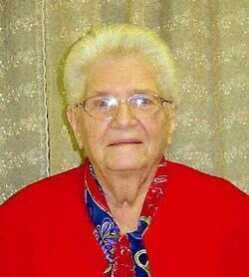 Mrs. Edna Otie Goff, 88, of Trumann departed this life on Saturday, April 29, 2017. Mrs. Goff was born in Etowah, Ark., and lived most of her lifetime in Trumann. She was a member of the Viva Drive Church of Christ. She was preceded in death by her husband, Ellis Goff; six sisters, three brothers and her parents, William and Ladell Cassiday Tucker.
She is survived by one daughter, Lavinda Goff-Corbin of Memphis, Tenn.; one granddaughter, Mikala and her husband Manny Covarrubias of Long Beach, Cal.; two sisters, Mattie Whitright of Stevensville, Mich. and Elizabeth Price of Harrisburg, Ark.
The family will receive friends on Saturday, May 13, 2017 at the Viva Drive Church of Christ, 224 Viva Drive, Trumann, Ark. for visitation at 11:00 a.m. A memorial service will follow at 12:00 noon with Bill Willard officiating. Burial will be private.
An online guest book can be signed at www.thompsonfuneralhome.net.