Bay wins regional opener, finishes as runner-up
Monday, May 15, 2017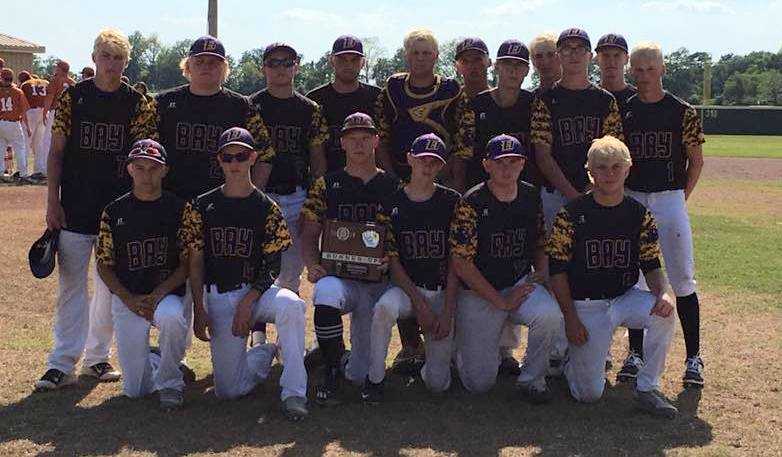 Three Bay pitchers combined for a one-hit 10-0 shutout of Norfork on a windy day this past Friday in the opening round of the 1A-2 regional tournament in Armorel. The Yellowjackets came back on Saturday to beat Viola 5-1 to reach the finals and extend their winning streak to 15 games. In the fourth meeting of the season with the Tigers, all games decided by one run, Bay had their winning streak stopped as Armorel downed the 'Jackets 13-2.
In the Norfork game, the Panthers got their lone hit of Bay starter in the first inning only to leave him stranded. The Yellowjackets plated two runs in the bottom half as Dylan Creech led off with a walk as Nolan Smith followed with a ground out. Taylor Layne reached on an error that allowed Creech to score making it 1-0 Bay. Layne moved up on a passed ball and scored on Caleb Hartgen's single to give the Yellowjackets a 2-0 lead. Higgins walked before Tyler Hartgen looked at strike three to end the inning. Norfork went down in order in the top of the second inning as Bay added six more runs in the bottom half. Quentin Francomano reached on an error leading off as Andrew Oster moved him to second with a sacrifice bunt. Jimmy DuVall singled to plate Francomano making it 3-0 Bay. DuVall moved to second on a wild pitch, stole third base and scored on a passed ball to make the score 4-0 Yellowjackets. Creech and Smith both drew walks before Layne's single scored Creech making it 5-0 Bay. Caleb Hartgen's sacrifice fly plated Smith to make it 6-0 before Higgins doubled to score Layne making it 7-0. Higgins went to third on an error on his double and scored on a wild pitch to make it 8-0 Bay before Tyler Hartgen grounded out to end the inning.
Full game story in May 11 edition of the PCDT!