Walter Kieras
Wednesday, May 24, 2017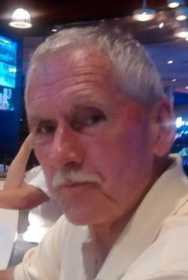 TRUMANN - Mr. Walter John Kieras, Jr. departed this life on Friday, May 19, 2017 at the Flo & Phil Jones Hospice House in Jonesboro at the age of 66. Mr. Kieras was born Friday, January 19, 1951 in Chicago, Ill. and had lived in Trumann/Jonesboro for the past 10 years and was formerly of Illinois. Mr. Kieras was a truck driver for Sysco Foods and a member of First Baptist Church. Mr. Kieras was preceded in death by one brother, James Kieras and was the son of the late Walter John Sr. and Patricia Janke Kieras.
Mr. Kieras is survived by his wife, Patricia Sanders Kieras of the home; one daughter, Joelle Kieras Urbanczyk of Chicago, Ill.; one son, James Kieras of Algongivin, Ill.; one sister, Sandra Martinelle of Lisle, Ill.; and three grandchildren.
Funeral services were held in the chapel of Thompson Funeral Home with Rev. John Maley officiating. Burial will be private.
An online register book can be signed at www.thompsonfuneralhome.net