Charley Woodruff, Jr.
Thursday, May 25, 2017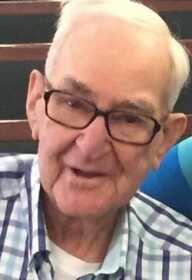 TRUMANN - Mr. Charley Woodruff Jr., departed this life Tuesday, May 23, 2017 at NEA Hospital in Jonesboro, Ark., at the age of 100. He was born Monday, June 12, 1916 in Lepanto, Ark., and lived most of his lifetime in Trumann. Mr. Woodruff was a retired farmer, World War II Army veteran and attended Pleasant Valley Baptist Church in Trumann. He was preceded in death by his wife, Dorothy Woodruff; one son, Richard Woodruff; seven sisters; three brothers and his parents, Charley and Irene Staples Woodruff, Sr.
He is survived by one daughter, Donna Pippinger and husband Danny of Trumann; one daughter-in-law, Joan Woodruff of Trumann; four grandchildren, Richard and Somer Woodruff, Michael and Susan Woodruff, Petina and Jimmy Pace, and Derek and Andrea Pippinger; 16 great-grandchildren, Rashawn and husband Craig, Dalton, Ben, Wesley, Hunter, Jay, Jase, Zach, Zoey, Ella, Aubrey, Braden, Crawford, Chance, and Ciara; and two great-great-grandchildren, Emmy Lou and Jaxon Lane.
Funeral service will be Friday afternoon at 1:30 p.m. at Pleasant Valley Baptist Church in Trumann with Rev. Larry Loggins and Rev. Paul Hale officiating. Burial will follow in Jonesboro Memorial Park Cemetery under the direction of Thompson Funeral Home of Trumann.
Active pallbearers will be Brent Henderson, Bill Wagner, Marvin Massey, Donnie Rodgers, Charles Osment, Jerry Hendrix. Honorary pallbearers are Robert Hodges, Richard Green, Trey Austin, Greg Green, Robert Dobbins, Freddie Farmer and Derrick Green.
Visitation will be Friday from 12:00 noon to 1:30 P.M. at Pleasant Valley Baptist Church in Trumann, Ark.
Memorials may be made to Pleasant Valley Baptist Church, P.O. Box 136, Trumann, AR 72472.
The family would like to thank the staff of 5 West at NEA Baptist for their loving care.
An online register book can be signed at www.thompsonfuneralhome.net.