Trumann mayor gives city update to Lions Club
Friday, May 26, 2017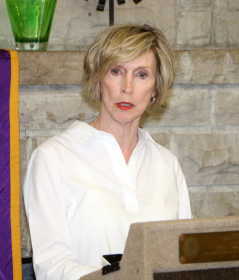 Trumann Mayor Barbara Lewallen was the guest speaker last Wednesday of the Trumann Lions Club's weekly meeting, and she gave an update on things that are in progress in the city.
Lewallen told the group Lectri-Flo has left the industrial park and moved back to Bay since the passing of its owner. Good news is Rage Fabrications, owned by Trumann native Ronnie Samuel and his son Ian, will move into the building and create ten new jobs for the city. "What started out as something made for a personal ATV/UTA has turned into a new business that sells worldwide. We are proud of Ronnie, and we are glad he stayed in Trumann," Lewallen said. The mayor also informed the club that the line for Contitech, formerly Parker Hannifan, has decided to send the line that stayed in the building to Mexico to have these parts made. "Hopefully we can attract a new business to come in and use the facility," Lewallen said.
Lewallen said renovation of the water tower is set to begin in June. She also told the group that the lift station on the west side of I-555 has had a brick building built around it and is ready for use. The city shop is ready to have stuff moved into it, and they are starting to move items over to that location. "We hope to get a compactor at the Oak Street location and again have that service available to the city," Lewallen said. The mayor also said the police department got a small grant and used the money to purchase new vests for the department.
The Sports Complex took a hit when the last storms came through, as some fencing and roofs over dugouts have had to be replaced along with the canopy at the splash pad.
"Lots of things are going on in the city, and hopefully we'll continue to grow and prosper in the future," Lewallen said.