Stark talks about preserving memories
Friday, June 9, 2017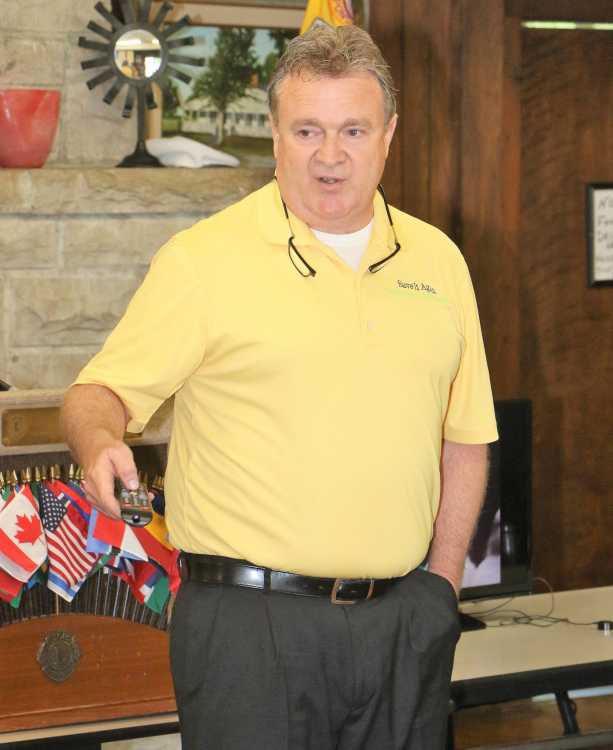 Wade Stark, owner of Save It Again video services, was the guest speaker last Wednesday at the Trumann Lions Club meeting. Stark talked about his new business and about his family.
Stark was born at Smith's Clinic in Trumann and is proud to call Trumann his home. He and his wife Karla have two sons. The youngest just graduated from Valley View and the oldest just graduated from Arkansas State University. "Trumann is a great town with a great community. We are blessed to able to live here," Stark said.
Stark told the group that after a family dispute that changed the dynamics of his family, it was at his mom's house that he came up with the idea of the business. "There were storage tubs in the house, and when I looked in them it was all our old home movies. I went through them, 270 in total, and made a DVD out of them. In all those movies, I only got 15 seconds of my grandma," Stark said. Making the DVD started the drive for Stark to collect and preserve more memories. "It has become in insatiable quest to find more photos or videos of my family," Stark said.
The hard part of this new adventure is not wanting to get rid of any photos. "I'll go through and get rid of the blurry ones, but it's made me not want to get rid of any other pictures as they are a treasure," Stark said. Stark said he had a family member contact him who had some home movies, and when he went through them he found some old footage of when he was young. The clip he showed the group was of him and his parents, siblings, and his grandpa. "Life is about memories. Smiles are contagious, and smiles can change lives. Hug your loved ones and make peace with those you need to," Stark said.
Stark spoke about his family for a few minutes before closing. In 2007, after having minor surgery for a hernia, his youngest son was diagnosed with Type I diabetes. In 2016, his Dad had a massive stroke, and ten days later his wife found out she had breast cancer. "It's been a tough year, but God has been so good to us," Stark said. Stark said when his wife started treatments, he couldn't be at the first one, so he bought 25 pinks balloons, one for each year they have been married, and tied them to a stump they had in the front yard. He also painted the stumped pink. "I then thought, she has 16 treatments so for each treatment she has, I'll cut a piece of the stump off," Stark added. When time came for the last treatment, they had rented a backhoe to remove the stump from the yard. KAIT came out to film the event and what was to be a 15 minute venture turned into an hour and a half. Karla was the one who got the stump out. "I worked at that stump, and when I finally got it out of the ground I was like...yes! I did it!" Karla said.