Alma Mae Walton
Tuesday, June 13, 2017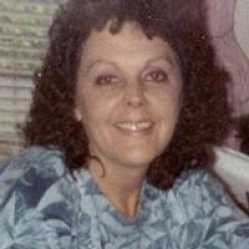 PARAGOULD - Alma Mae Walton, 68, passed away Saturday, May 27, 2017, at her residence.
She was born September 15, 1948, in Leachville, Ark. to William and Thelma Sullivan. Alma was a former employee of Wal Mart and was of the Baptist faith.
Survivors include two sons, Ozzy Rose of Paragould and Todd (Kelly) Goodwin of Port Orange, Fla.; one daughter, Misty Shately; two sisters, Helen Powers and Ellen Dick of Paragould; four grandchildren, Tanner Perkins of Arbyrd, Mo., Aspin Williams and Hunter Williams of Paragould and Felecia Nicole Schara of Apache, Okla.; two great-grandchildren, Mia and Corbin Schara.
She was preceded in death by her parents and four brothers, Lloyd, Floyd, Boyd, and Billy Sullivan.
A memorial service was held on June 1 at the Mitchell Funeral Home chapel in Paragould. An online guestbook can be signed at www.mitchellfuneralhomes.com.