Trumann Fishing Team set for national tournament
Thursday, June 22, 2017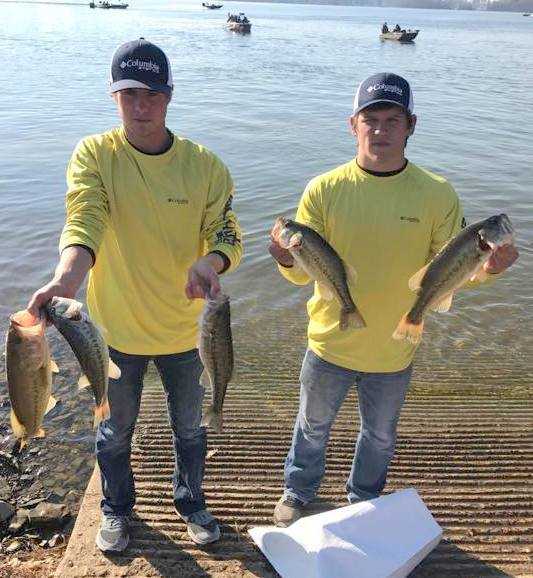 Only in the first year of existence at Trumann High School, Cade Gartman and Jay Morgan have had a great season for the Trumann Fishing Team and hope to cap it off with a national championship. The duo, along with boat captain Jarrett Prince, will head to Pickwick Lake in Florence,Alabama for the 2017 High School National Championship that will be held June 26 through July 3.
Having fished every summer for years, Gartman said it was Prince who came up with idea. "Jarrett is big time into fishing. He talked to us and had the idea of a school fishing team and it just took off," Gartman said. Morgan said pretty much the same thing, "It's pretty cool that we turned a hobby into a school fishing team," Morgan added. Both young men couldn't say enough about much Prince means to the team. "He helps in so many ways with equipment to use and pointers on fishing," Gartman said. "He's our boat captain and makes sure we have everything we need when it's time to fish," Morgan added.
The team placed fifth out of 65 boats in their first fishing tournament before fishing okay in the next two tournaments. The national qualifier tournament took the top four teams with Trumann getting that fourth spot to advance.
Gartman spoke about getting prepared for a tournament. "We can go up the day before the tournament starts and fish to help us decide how we want to set-up for the tournament. It's helps a lot to be able to do this," Gartman said. "The national tournament will be tough. Everyone wants that $10,000 in scholarship money for winning," Gartman added.
The guys think the fishing team will continue to grow at Trumann High School. "I think with success we had this year and with so many kids who love to fish, I see the program growing and continuing at the school," Morgan said. "I've had a lot of the younger kids come up and ask me about the fishing team. I think it will continue to grow and it was cool being a part of the first team," Gartman added.