Long talks Arkansas history with Lions Club
Friday, June 30, 2017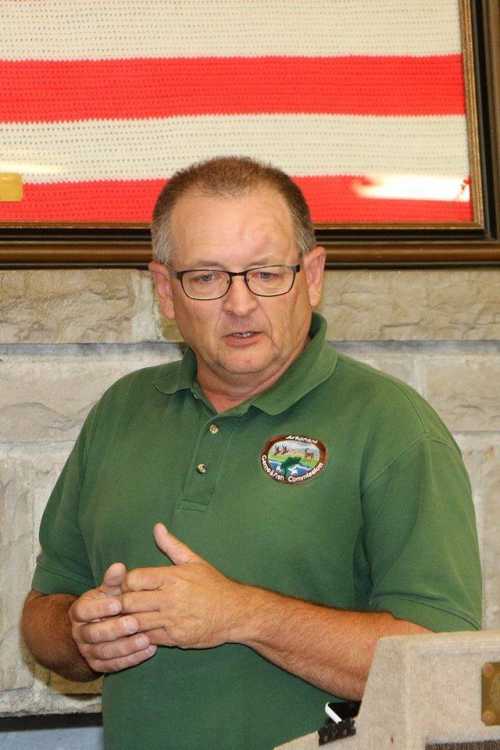 Chuck Long, a 27-year member of the Arkansas Game and Fish Commission (AGFC), was on hand last Wednesday to teach a little Arkansas history at the Trumann Lions Club's weekly meeting. Long has been in the Education Department for AGFC since 1998.
Long gave out a sheet with dates and events and had the members try to match the events and dates up. 1541 was the first year on the list, and that was the year DeSoto was one of the first explorers of Arkansas. In 1686, Henri de Tonti established a settlement at the Arkansas Post, and in 1804 the Hunter and Dunbar Expedition explored Arkansas. The 1811 New Madrid Earthquake caused widespread damage along the St. Francis River, causing it sink, creating the Sunken Lands. Arkansas became a state on June 15, 1836, and is known as the Bear State, and in 1838 Poinsett County was formed and named after Joel Roberts Poinsett, a political figure who served in a variety of capacities, including Secretary of War under Van Buren.
In 1861, Arkansas seceded from the Union, and in 1899 Hans Mortensen, a Danish schoolteacher was the first to band birds to see which birds come back year after year to the same place. The "Arkansas-style duck call" was invented by P.S. Olt from Illinois, and in 1908 the Ozark National Forest is set aside. The AGFC was formed in 1915, and the Great Flood of 1927 put over 200,000 acres of land in Poinsett County underwater. In 1945, the AGFC changed its services to the format it is today. Trout were introduced to the waters of Arkansas in 1951, and in 1956 striped bass were introduced to the state. Black bear were restocked in Arkansas in 1959, and the levee for Lake Poinsett was constructed in 1960.
It became illegal to kill hawks, owls, and other birds of prey in 1965, and in 1972 efforts began to restock alligators in Arkansas. Hunter orange became mandatory for big game hunting in Arkansas and the state started issuing duck stamps in 1981. Lead shot was banned for waterfowl hunting in 1991 due to lead poisoning in ducks, and in 1996 Amendment 75 passed, giving the AGFC a portion of a 1/8 cent sales tax.
Long also brought furs from bear, coyote, red fox, raccoon, deer, and badger to show the group. Long said the furs were used for a variety of things back in the old days.