Wrays named District Farm Family of the Year
Friday, June 30, 2017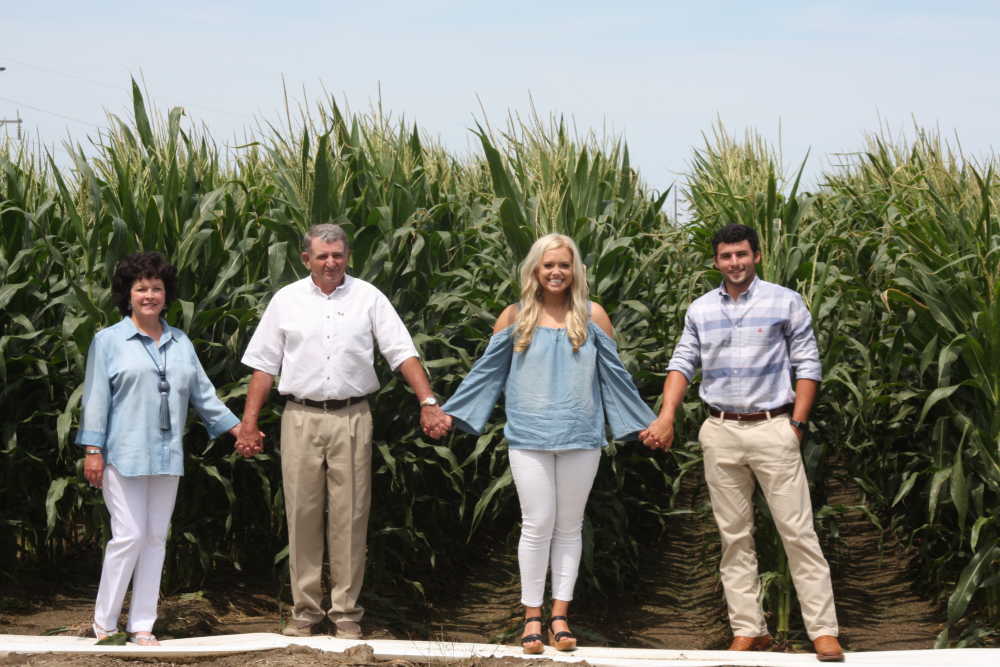 The Wrays, who farm near Payneway, have been named the 2017 Farm Family of the Year for both Poinsett County and the Northeast Arkansas District. Eddie and Annette Wray have four children, the youngest of which, James, works on the farm with them. The others are Jamie, Stephen, and Ashley. The Wrays went from farming 1,300 acres their first year to farming 5,000 acres today with soybeans making up a little over half those acres. They also farm cotton, rice, and corn.
Farming is in the Wray family blood. Eddie's father's family moved to Arkansas from Mississippi, and his mother's family came from Tennessee. Eddie said both families were homesteaders who had been farming for generations. Eddie's father, James Ed Wray, had him driving a B-model John Deere when he was four years old. "He would always plant enough corn to feed the livestock," Eddie said. "They would pull the corn and put it into piles throughout the field. The B-model had a hand clutch, which made it possible for a little fellow to drive it. He put it in low gear, and I would creep along. When we came to a pile of corn, he would tell me to stop, and I would yank the clutch and vice-versa to go to the next pile. He then would turn the tractor for me on each end."
After Eddie graduated in 1970, he first went to Memphis with a couple friends to get a job. He got a job at Raylock rebuilding brake shoes, and after two weeks of that, "I said: I think we need to go home and farm," Eddie said. He and his brother Larry formed a partnership with their father where Eddie handled the cotton, Larry handled the grain, and their father handled the business side. Eventually, Larry went off on his own.
Over the years, the farm went from grain and cotton to strictly cotton. By 2008, they were farming 4,800 acres of cotton. That fall, they decided to start growing grain because cotton prices were in a slump. Eddie called this one of the toughest decisions they've made. "The startup cost for beginning this endeavor was a major financial decision, but looking back, it has been the most profitable decision to date," Eddie said. "The year we made the transition, there was an extremely wet harvest, causing us to lose over a half a bale an acre of our cotton crop due to two weeks of raining. This is just another testament to the Lord's providential care and his blessings on our operation. Absorbing that kind of loss on 4,600 acres would have been catastrophic, but since we transitioned to grain, it effected less than 2,000." Eddie said if they hadn't made the decision to switch to grains, they wouldn't still be in business today.
One interesting thing one notices on the Wray farm is the bee hives. Pollinators are an important part of agriculture, but bee numbers have been lowered due to decreased habitat. James said it was important to be better stewards, so they have worked with Mason Bee Farm to place hives on the farm to help restore the dwindling bee population. James said bees move three miles out from the hive, so they have two more spots picked out for hives, which will cover the whole farm. They also make sure to spray at times when the bees are dormant to protect both the bees in the hives and the bees still living naturally in the environment.
The operation is truly a family farm with Annette handling the books and countless tasks around the farm. James is handling the day-to-day decisions more, and Eddie is looking to turn most of the farm over to him in a few years. "The task of placing varieties and what to spray are not on my shoulders anymore," Eddie said. "He enjoys it the same way I did when I was his age. It makes me proud to see his dedication to our farm and the time he takes to develop the best approaches he can."
Last year, Eddie and James set some soybean goals. The one-year goal was to break the 100-bushel barrier. The two-year goal was to set the state record. And the ten-year goal was to set the world record. "With the Lord's blessing, we were able to accomplish our first two goals in one season," Eddie said. Eddie, Annette, and James each had a plot for the Grow for the Green Soybean Yield Challenge, and James set the state record at 118.8 bushels per acre, beating the old record of 113.8. All three broke the 100-bushel barrier, and they took the top three places in the contest with James coming in first, Annette in second, and Eddie in third. They did point out that Eddie was the first in Poinsett County to break 100.
Eddie and Annette's oldest son, Jamie, works at Arkansas State University. Their son Stephen also farms and has two sons, Cameron and Parker. Their daughter Ashley graduated from Oklahoma Baptist College with a degree in early childhood education. She met her husband Doug Ferris there, and they have three children, Joseph, Samuel, and Jack. Doug is a pastor in Silver City, N.M. James graduated from ASU with a degree in Civil Engineering and married his wife, Natalie, after graduating. Natalie has a degree in Exercise Science and just graduated from the Physical Therapy program.
Faith is a major part of the Wrays' lives, and Eddie said that any success they have comes through God. "The bible says: 'Them that honor Me, I will honor.' I attribute our success to the Lord. I prayed the other night that if anything came out of this (being named farm family), I wanted the Lord to get the glory," Eddie said. Eddie and Annette are active members of Calvary Baptist Church in Trumann.
James and Natalie are active members of Central Baptist Church in Jonesboro, and through their church, James has been able to share his love of agriculture on a mission trip. "I've always felt a calling to go on a mission trip and actually be what the chruch is supposed to be," James said. He got a call in February about a trip to Uganda which was ag-related, and he went. The goal was to teach the people sustainable ways to farm. Since James knew nothing about chickens, he had Extension Agent Craig Allen email him everything he had on chickens before he went. He said they showed the people how to build chicken coops out of eucalyptus trees and taught them how to raise chickens. They also set up a research farm for the people to learn to grow their own food as well as to use the research farm itself to feed the chickens. "The Lord's hand was in it," James said.
Natalie, who has been married to James for three years, spoke about seeing how much God helped them in farming. "It's crazy how the Lord comes through every time when we're worried," Natalie said. "He always comes through every season. It's strengthened my faith."
Eddie also spoke about some tough times when God had seen them through. They don't work on Sundays, and Eddie said one year they had a wet spring where it rained three Mondays in a row. "We might get in on Saturday, we didn't work on Sunday, we would get in Monday, and it would rain," Eddie said. "It didn't look like we would get a crop." Eddie said he prayed about it, and they were able to get the crop planted. "We made as good as everyone else, maybe better."
Another bad year was 1980, when there was hardly any rain. Eddie said it had been very dry and was one of the hottest Julys on record. One afternoon, he saw a cloud build up, rain, and quit when it got off their property. The strip the rain hit averaged around 20 bushels an acre of soybeans, which was unheard of, especially that year. "Our farm has been blessed like this again and again throughout the years," Eddie said.
"I feel the Lord has blessed us with success to make Him known," James said. "A platform has been given to us to share the Lord."