Martha Ann Williams
Wednesday, July 12, 2017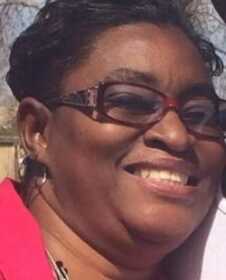 JONESBORO - Martha Ann Williams, 50, departed this life on Wednesday, July 5, 2017 at Flo & Phil Jones Hospice House in Jonesboro, Ark. Martha was born Wednesday, July 6, 1966 in Lepanto, to the late Cicero Williams and Della Mae Neely. She grew up in Marked Tree, but eventually relocated to Denver, Col. where she went on to graduate from Manual High School. Martha Ann worked at St. Bernard's Medical Center for over 20 years where she had countless friends before she retired in 2013 due to her illness. 
Any and all that knew her... KNEW she was a high spirited person to be around that LOVED to talk. You knew her opinion on any matter whether you wanted to hear it or not (good or bad). Her personality was triumphant. She never conformed for anyone or anything, but the compassion she had for others could never be questioned. She loved her children and grandchildren more than words can express. Being the baby sister of all the Williams siblings, Martha also had VERY special bonds and relationships with all of her nieces and nephews. She was so much more than a daughter, sister, aunt, mother, grandmother, or friend.
Martha Ann leaves behind her beloved Robert Young, and beautiful best friend, Verdie Ann Young; three sons, Isaac Sherman Williams, Marcus Eugene Williams and Michael Andrew Jackson all of Denver, Col.; four brothers: Herbert Williams (Teresa) of Little Rock, Howard Williams (Brenda) of Okla.; Otis Williams (Cynthia) of Oak Park, Mich. and Danny Williams (Leora) of Kan.; four sisters; Lois Smith of Aurora, Col., Peggy Williams of Trumann, Sallye Williams of Farmington Hills, Mich. and Lillie Williams of Ga. She was preceded in death by a sister, Willie Mae Jackson.
Martha Ann was an incredible person and loved spending time with her granddaughters Lillyonna, Janelle, and Jalaya. She leaves behind 10 beautiful grandchildren and a host of nieces and nephews.
The family will receive friends Thursday, July 13th from 5:00 to 6:00 p.m. at Thompson Funeral Home of Trumann. A Memorial service will follow at 6:00 P.M. in the chapel of Thompson Funeral Home with Rev. John Booker officiating.
An online register book can be signed at www.thompsonfuneralhome.net