Red Wolf duo on award watch lists
Thursday, July 13, 2017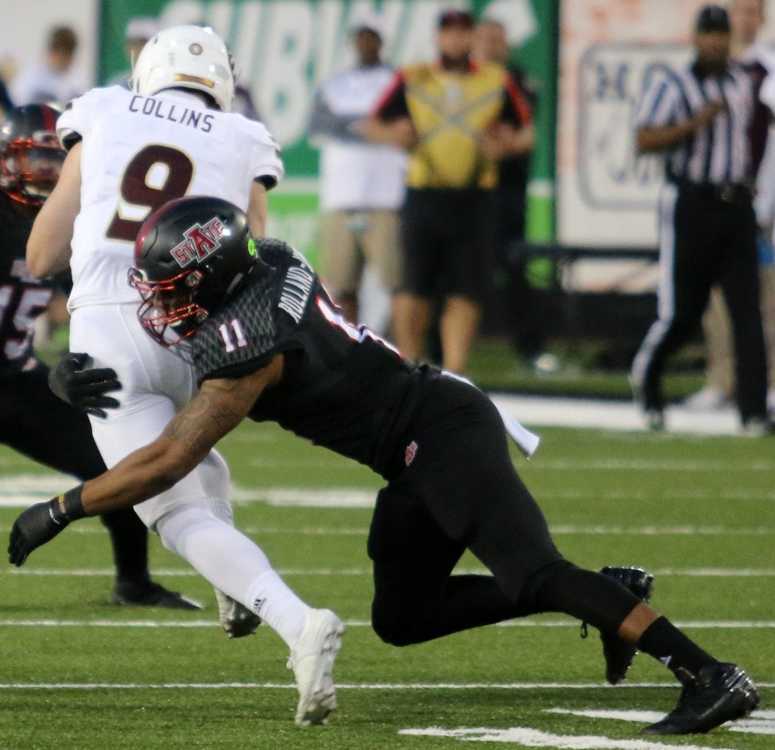 Arkansas State senior defensive end Ja'Von Rolland-Jones has been named to the 2017 Bednarik Award Watch List as fellow senior tight end Blake Mack has been named to the John Mackey Award Watch List the Maxwell Football Club announced Monday morning.
Rolland-Jones is the first A-State student-athlete in school history to be named to the watch list twice in a career. He also received recognition as a junior in 2016 and has been the only player from the Sun Belt named to the preseason watch list in each of the previous two seasons.
The reigning SBC Player of the Year finished his junior season ranked fifth in the nation in sacks per game (1.04) and eighth in tackles for loss per game (1.7). During the course of the year, Rolland-Jones broke both the Sun Belt single-season and career records for sacks with 13.5 and 30.5, respectively and also set A-State career record for sacks as well. His sack total for the season was only a half-sack shy of tying the most in school history for a single-season and ended the season ranked third in the nation in career sacks among active players.
The Mesquite, Texas native enters his senior season needing 13.5 sacks to tie the NCAA FBS record for a career, currently held by Terrell Suggs (Arizona State, 2000-02) with 44. He also needs 29.5 tackles for loss to tie the NCAA record for tackles for loss in a career at 75, currently held by Jason Babin (Western Michigan, 2000-03) and Khalil Mack (Buffalo, 2010-13). Rolland-Jones was recently tabbed by Sports Illustrated at the No. 95 player on the SI.com Top 100 college football players to watch for the 2017 season.
Mack, who appeared on the list as a junior in 2016, joins Darion Griswold (2014-15) as the only two players in school history to have appeared on the award's watch list in back-to-back seasons.
A second-team All-Sun Belt Conference selection, Mack played in all 13 games and caught 34 passes for a team-high for 652yards and three touchdowns. He ranked ninth in the SBC with 50.2 receiving yards per game and averaged a team-high 19.2 yards per reception, which also ranked as the 18th best in the nations. He caught at least one pass in 11 games and had multiple receptions in 10 games, including a seven catches for 82 yards against Utah State. H
He was named a John Mackey Award Honorable Mention Tight End of the Week honoree on Sept. 28 after recording eight receptions for 142 yards against Central Arkansas.