Redman loves the game of golf
Thursday, July 20, 2017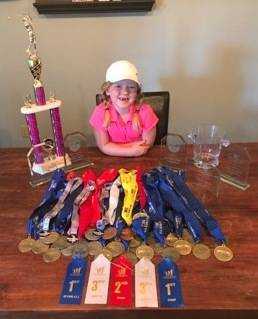 While most kids are lacing up their cleats to hit the baseball and softball fields, Trumann's Kody Redman prefers to lace up her spikes, load up her golf bag and hit the golf course. After falling in love with the game at the age of six, Redman, now eight, has a bright future in the game.
Redman said she was hooked on the game after a stop at a course on the way to a baseball tournament. "We stopped off at a course on the way to a baseball tournament and I was just hitting the ball straight down the fairway. Dad took a video of me hitting the ball and sent it to Mom and it was golf from then on," Redman said.
Kody, who is preparing to go to Pinehurst, NC at the end of he month, is coach by Mary Murphy of Olive Branch, MS. Kody's mom Terah said they were lucky to get in with her. "We contacted Mary and she told us she was full. We decided to send her a video and got a response back in just a few minutes saying she wanted to coach Kody. Mary says Kody is a natural and can see her play Division I golf after high school," Terah said.
Kody's dad Jon caddies for his daughter and gives her advice on the course. "She has improved so much from when she started. Old videos of her playing will pop up on Facebook and we notice how much her swing has changed. Her attitude toward the game as gotten so much better too," Jon said. "She can pick her own clubs now and has gotten pretty good at reading the greens. I use to have to tell her what the putt would do, now she tells me what she thinks it will do and we will discuss the putt. She is so easy to coach and usually only has to be told once on how to do something," Jon added.
Jon and Terah said they want Kody to continue to love the game and get better as she gets older. "We will take weeks off a time so she doesn't get burned out on the game," Terah said. "We see so many kids that this is all they do day in and day out," Terah added. Jon told a story of a dad from another country asking him if this was Kody's job. "He asked me if this wad Kody's job? I told him it wasn't and that she played mostly on the weekends. He said this was his daughter's job and that she was home schooled to she could do the job," Jon added.
Kody said Brittany Lincicome and Lexi Thompson are her favorite golfers and that she enjoys watching them on the television and has loved to going to Rogers for the yearly LPGA event held there and also going to the PGA stop in Memphis. "I like going to the Rogers' tournament and meeting the golfers and getting autographs," Kody said. Kody's mom said the lady golfers are so nice to Kody.
Redman is ranked number one in her age group in Arkansas and is ranked number seven in Tennessee. As she prepares to go back to Pinehurst, where she finished 47th in the world last year, she has her goal in place for this year. "I'd like to finish in the top 20 this year. A top 10 finish would be awesome," Redman said. Good luck Kody, may your drives be in the fairways and your putts find the cup!