Harrisburg town hall held for medical marijuana facility
Monday, July 24, 2017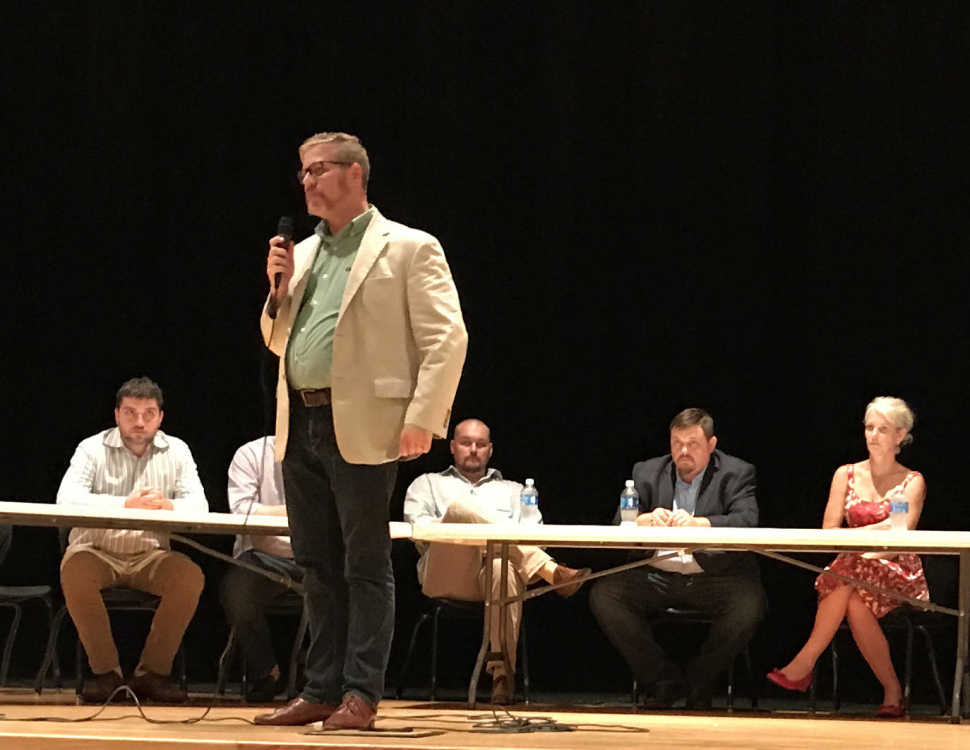 Representatives from Southeastern Medical Solutions, and from several pharmacies partnering with them, answered questions recently during a town hall meeting in Harrisburg regarding the proposed medical marijuana cultivation facility.
Max Caldwell, with Caldwell Pharmacy in Wynne, was among many pharmacists present who are partnering with Southeastern Medical Solutions. Caldwell said he voted against the amendment legalizing medical marijuana but believed that since it is now law, pharmacists have a responsible to make sure it is carried out in the best way possible. "The best thing pharmacists can do is make lemonade out of lemons, "Caldwell said. "We want to keep as many rules and regulations as we can."
Erik Williams, with Southeastern Medical Solutions, gave a rundown of what they are planning. The constitutional amendment allows for 4-8 cultivation facilties in the state, and a commission has decided they will award licenses for five cultivation facilities and 32 dispensaries. "We are planning a state-of-the-art greenhouse facility for indoor cultivation," Williams said.
If they are awarded a license, the facility will handle planting, harvesting, curing, packaging, and will ship the products directly to dispensaries. All products will be shipped shelf-ready, and the only people allowed in dispensaries will be those with medical marijuana ID cards issued by the state. "Zero cannabis will be sold out of the facility in Harrisburg to retail," Williams said.
As far as security for the facility, Williams said they intend to "have a facility no one is going to see." There will be security cameras at all points of approach to the facility as well as inside. The facility will be unmarked, fenced in, and they intend to hire part-time or retired law enforcement to enhance security. The product will leave in unmarked cars, and law enforcement will know when they leave. The cars will have GPS tracking and alarms to make sure they reach their destination without any deviation.
Williams also said they are committed to hiring locally, and he was thrilled with the local talent he met at the job fair the previous day.
"We knew the economic benefits that can come to this town," Williams said. "Poinsett County falls fairly low on the economic scale in Northeast Arkansas. We saw what we could do to help the economic situation here." He added that while they were narrowing down communities for the facility, they met with a group of crop dusters over concerns about air quality becuase they will be making products that can go to people with compromised immune systems. The crop dusters came up with a solution, and Williams said that was the tipping point that helped them decide to commit to Harrisburg or the other communities they were considering.
The group is investing $5 million in this venture. Right now, the state's application process is underway, with a closing date of Sept. 18. After that, the state will determine who gets licenses, which could take between 30-60 days. Should Southeastern Medical Solutions receive a license, Williams said they intend to break ground within 48 hours and build the facility within 4-6 months.
"We have a national vision," Williams said. "We want to be a shining example for every southern state to follow. We're planning on bringing the best and brightest to the facility."