Lions Club installs new officers
Monday, July 31, 2017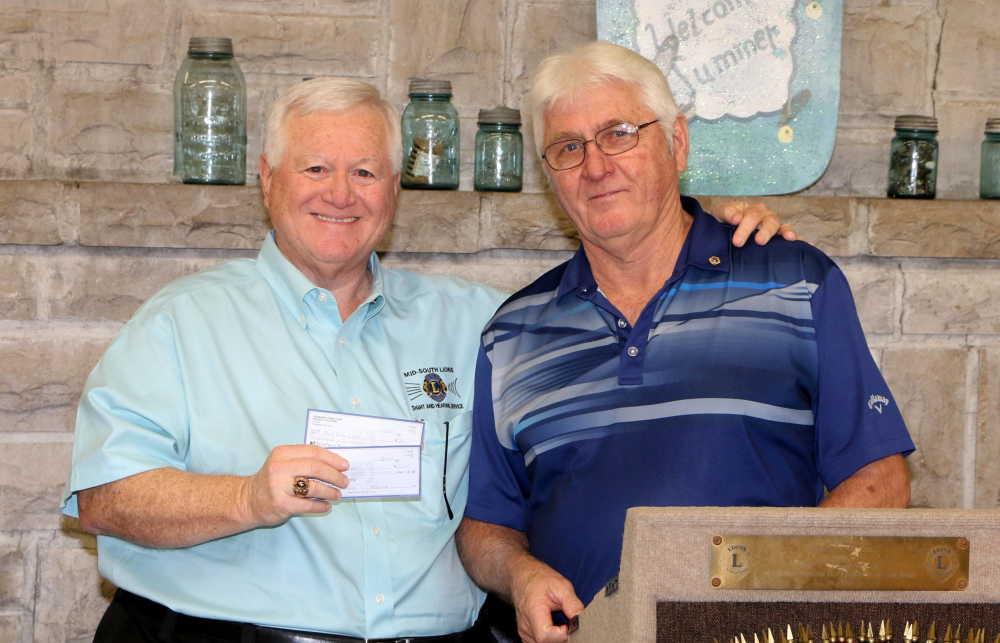 Brad Baker with Mid-South Lions was on hand last Wednesday to install the new officers for the Trumann Lions Club. Baker also took the time to speak a little bit about being a Lion.
Baker, who has been with Mid-South Lions for 27 years, talked to the group about feeling burned out and being tired of doing this. "What motivates you?" was the question asked by Baker. Money? Baker said it takes money to everything they do. "When we get monies from the local clubs, it's help us to help those in need," Baker said. Mid-South Lions helps those in Arkansas, Mississippi, Missouri and Tennessee, but have also helped those from other states and foreign countries.
"Is it knowledge that motivates you?" Baker asked. Baker told the group that the website midsouthlions.org has a wealth of knowledge about the history of the Lions Club. Baker told the group that 100 years of Lionism was just celebrated. The goal was to treat 100,000,000 people with sight problems in those 100 years. Baker proudly said that 200,000,000 people have been treated during that time.
"Serving others? This is why you joined the Lions Club," Baker said. Baker told the group that his family have been Lions his whole life. "I can't think of a better way to serve to serve your community through a service organization. I don't understand why everybody doesn't want to be in Lions Club," Baker said. College scholarships, eye glasses, and helping the city in any way possible are just a few ways the Lions Club's helps others.
"Being part of something greater? Baker told group that in 1942 when Melvin Jones founded Mid-South Lions, he didn't think it would be as big as it is today. "We cover over 200,000 square miles in the four state area with over 700 Lions Clubs involving close to 12,000,000 people," Baker said. "When you wear that Lions pin, you are part of something greater. You are part owner in Lions International and Mid-South Lions."
Baker then had the honor to installing the new officers for the Trumann Lions Club. The new officers are: President, Ronnie Harrison; President-Elect, John Maley; Second Vice-President, Bob Sowell; Third Vice- President, Craig Allen; and Secretary/Treasurer, Scott Richards. Board Members are: Betty Payne, Sharon Vest, Michelle Wood, Donald Smith, Marlene Hancock, Melisha Harlow, and Sandy Teague.