David "Matt" Canerdy
Wednesday, August 2, 2017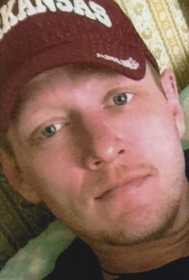 MARKED TREE –David Matthew "Matt" Canerdy, 36, died Sunday, July 16, 2017 at St. Bernards hospital in Jonesboro, Ark. He was born December 10, 1980 in Memphis, Tenn. He was a Christian and a member of Peoples Faith Tabernacle Church in Hoxie, Ark.
He was preceded in death by his father, Carl David Canerdy; brother, John Dallas Canerdy and son, Zachary David Canerdy.
He is survived by his mother, Elizabeth "Betty" Horton; sister, Evelyn "Sissy" Chappell; brother, James Lance Rose; two sons, Austin Matthew Canerdy and Ashton Tyler Canerdy; their mother, Heather Lindzy; fiance', Crystal Coker; step-sister, Wendy Manuel and step-brother, Wes Manuel.
Services were held at First Baptist Church in Marked Tree with Pastor Dale Noe officiating.