Lois Jones
Wednesday, August 2, 2017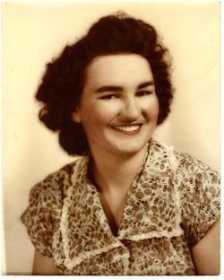 TRUMANN - Mrs. Lois M. Jones, 89, departed this life on Saturday, July 29, 2017 at the Arlington Cove Nursing Center in Trumann. Mrs. Jones was born Tuesday, December 27, 1927 in Amagon, Ark., and had lived most of her lifetime in Trumann. She was a housewife and a member of Providence Baptist Church. She was preceded in death by her husband, Everett E. Jones; one sister; four brothers and was the daughter of the late George and Ruth Honey Cooper.
She is survived by two sons, Jerry Jones and wife Bonnie and Terry Lee Jones and wife Pauline both of Trumann; four grandchildren, Scotty Jones, Carrie Trego, Jessica Crow and Jerrold Jones; five great-grandchildren, Paige Raymond, Hannah Jones, Harley Jones, Braxton Trego and Gavin Trego; three brothers, Fred Cooper of Jonesboro, Darrell Cooper of Ill. and Chester Cooper of Cal.
Graveside services were held July 31st at Harrisburg Memorial Park Cemetery with Rev. Bobby Brooks officiating. Burial followed under the direction of Thompson Funeral Home of Trumann.
The family will serve as pallbearers.
An online register can be signed at www.thompsonfuneralhome.net.