Churches an important part of food pantry
Monday, August 7, 2017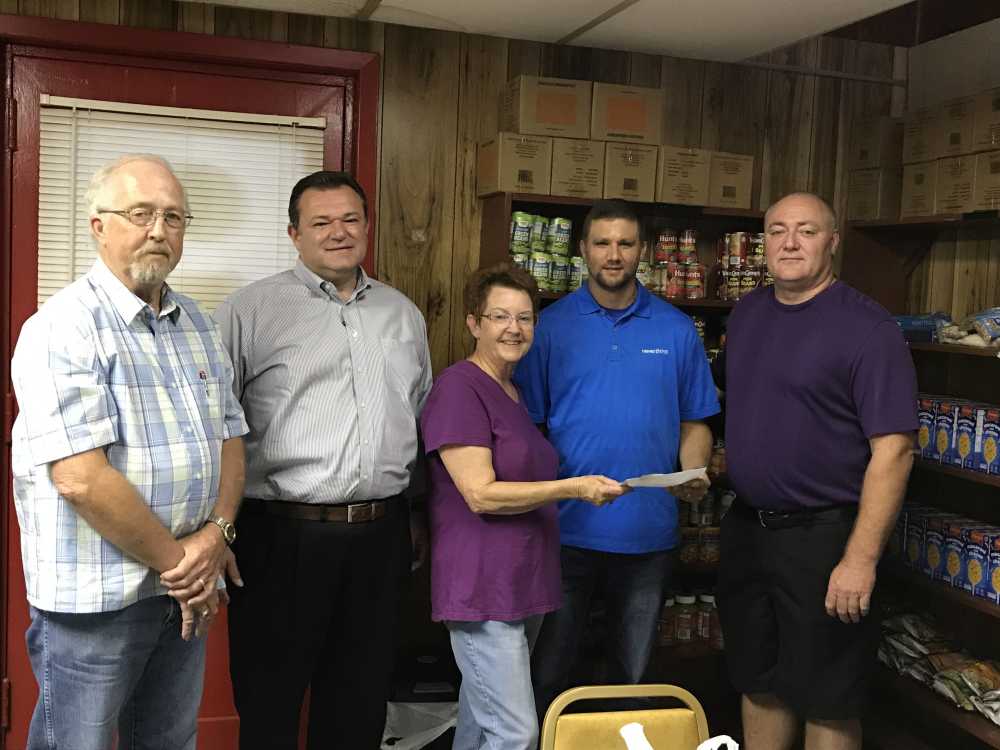 Three Rivers Food Pantry in Marked Tree recently celebrated their one-year anniversary with Connie and Jim Huff as directors. They have gone from helping three families their first week to 563 families--1,355 individuals--during the month of June. The pantry has received support from numerous volunteers, students, and area churches. Last week, the pastors of three Marked Tree churches--Danny Partlow of First United Methodist Church, Dale Noe of First Baptist Church, and Scotty Smith of Church of God--came together at the pantry to make a generous donation and to talk about the pantry's impact on the community.
The youth groups in their churches have helped with the food pantry by doing various things such as helping pre-pack and stock food and holding fundraisers to help raise money for the pantry. "To me, that's the cool part," Noe said. "You are seeing kids helping."
"One of the goals of my ministry is to empower people to think on their own," Partlow said, "and ask themselves: what can I do for our community?" He said the youth groups have taken the initiative to help the food pantry and the community at large. "As an example, when they do a fundraiser for laser tag, a percentage of the money they raise goes to the community. Sometimes the kids will say, this family's house burned; let's give all of the money we raised to them," Partlow said.
Noe told a story of a recent example of generosity he had seen. He had gotten an invitation to birthday party for a family's one-year-old daughter. "The insert said, 'our daughter is so blessed, in lieu of gifts, please make a donation to the food pantry,'" Noe said. "I was just like, praise God."
The pastors also praised Connie Huff for the instrumental role she has played in building the pantry back up. "There's been an increased awareness since she's been here," Noe said. "Connie has been a key component. People are more aware of the need. The community is more aware and more willing to get behind the pantry. She's helped us become more focused on a solution instead of focusing on a problem."
Regarding the donation, Huff said, "We are beyond grateful for the blessing. The money will be put to good use to buy food. I'm excited to see the churches working together, not just for the pantry but for the community. It really is a blessing. I think the Marked Tree Community needs to be ecstatic the churches are willing to do this."
The pantry is also planning ahead for Christmas. On that note, Huff said anyone who has not registered with the pantry needs to register by Nov. 1. The Nov. 1 numbers are what the pantry goes by for buying their holiday meat such as turkeys, and anyone not registered by that date will have to wait until after Christmas to register.