District Governor visits Marked Tree Rotary
Thursday, September 7, 2017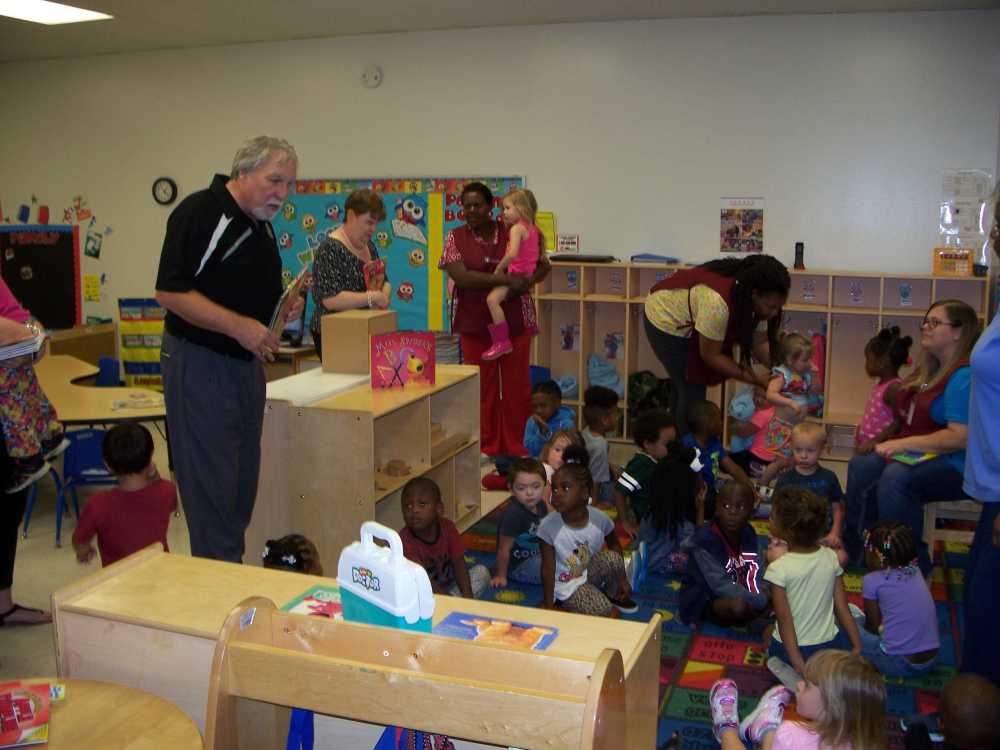 The Marked Tree Rotary Club got a visit from the Rotary District Governor last week and delivered books to children as part of a service project.
Nancy Leonhardt, District Governor for Rotary District 6150, visited with the club to talk about goals for the coming year. According to Leonhardt, the district has 39 clubs in Northeast Arkansas with 1,924 members. Last year, they contributed around $189,000 to the Rotary Foundation--which is dedicated to polio eradication as well as humanitarian and educational programs throughout the world--awarded 112 Paul Harris Fellows, had four inbound and three outbound youth exchange students, started three Rotaract Clubs and 20 Interact Clubs, and sent 34 students to Rotary Youth Leadership Awakening camp.
Leonhardt's first main goal for the coming year involves raising money for Rotary International's PolioPlus program. "We are so close to eradicating polio," Leonhardt said. "I believe we will see it happen in our lifetime, but we still need to immunize and raise awareness."
As of August 2017, there have been nine reported cases of polio for the year, which is down from 22 reported by the same time in 2016. Leonhardt said once there have been no new cases for three years, polio will be considered eradicated. The three countries left with polio cases are Afghanistan, Nigeria, and Pakistan. Nigeria has had no cases in the last year.
Leonhardt said the Bill and Melinda Gates Foundation have again challenged Rotary to raise $50 million for polio eradication over the next three years with a pledge to match it two-to-one, which will mean a total of $450 million. Leonhardt's goal for her district is for each club to raise $1,500 for PolioPlus.
Her second goal involves literacy, something she is passionate about as executive director of the Arkansas Literacy Council. "Fourteen percent of adults in Arkansas, that's one in seven, cannot read above a fifth grade level," Leonhardt said. "Forty-one percent of students in the fourth grade cannot read at grade level." Her goal is for every club in the district to participate in a literacy project, which she said the Marked Tree club does both with its annual project to give dictionaries to third graders and with their project that day of handing out activity books to the kids at the Arkansas Early Learning Mary Ann Arnold Headstart center.
Rotary International President Ian Riseley set this year's theme as "Rotary: Making a Difference." Riseley challenged the clubs to plant 1.2 million trees over the next year, one for each member of Rotary throughout the world. Leonhardt said at the district conference in April, they plan to plant several trees to contribute toward that. She also hopes to have a Saturday in the spring when all 39 clubs in the district will do a service project in their communities on the same day.
Marked Tree Rotary's annual Peggy Bankston Walk/Run/Ride is also coming up. It will be Saturday, Sept. 30, with registration at 8 a.m. and the program at 8:30 a.m. The walk starts at Iberia Bank and continues to the bridge for a balloon release. This year's theme is "Dreaming of a Cure." Proceeds go to the Susan G. Komen fund in Bankston's honor.