McAnally guest speaker of Trumann Lions Club
Thursday, September 7, 2017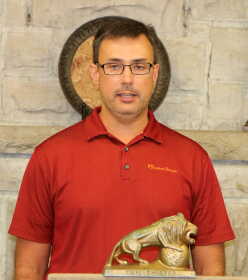 Paul McAnally, President of Southern Bancorp Trumann, was the guest speaker last Wednesday at the Trumann Lions Clubs' weekly meeting.
McAnally has been with Southern Bancorp for 17 years and has served as president since 2012. "We are a community-minded bank and want to do what we can to help in the community," McAnally said. "Southern Bancorp's mission is to create economic opportunity in rural and underserved communities by providing responsible and responsive financial products and services that balance profits with purpose."
The present day bank was re-named in 2009 after Southern Bancorp purchased the branch. The bank had been Bank of Trumann since 1911. Southern Bancorp was formed 30 years ago when Bill Clinton, Rob Walton, and the Rockefeller Foundation invested $10 million to form Southern Development Bank Corporation that is now Southern Bancorp. "With that initial $10 million investment, Southern Bancrop now has over $1.2 billion in assets," McAnally said.
McAnally said Southern Bancorp is also one of the biggest CDFI (Community Development Financial Institution) in the state. CDFI is where federal dollars, along with private sector capital, help economically disadvantaged communities. McAnally also told the group that the bank is unique, not the typical bank. "We offer scholarships, free tax service ($46,000 or less income), and are active in our communities with area sports along with civic organizations," McAnally said. "We are glad that we can provide these services to our cities."
McAnally also talked about the services the bank offers and what might be on the horizon. "At this time, we offer the option of taking a photo of your check for deposit, debit cards made on-site, and round-up checking for saving," McAnally said. "I think the rates on deposits will increase slightly over the next one to two years, and I get asked a lot about having a Southern Bancorp in Jonesboro. I see it happening one day."
With Regions set to close in October, McAnally urged everyone to keep their money local. "Whether you choose us, Unico Bank, or First Delta, keep the money in our economy," McAnally said.
McAnally closed with the goals of Southern Bancorp over the next ten years. "It's called the Big Hairy Audacious Goals that were set in place by our CEO, Darrin Williams. We want to help support 10,000 people in attaining affordable housing, help support 100,000 jobs within our organization, and empower 1,000,000 to save money," McAnally said.