Harrisburg moves to 2-0 with win over Marked Tree
Thursday, September 14, 2017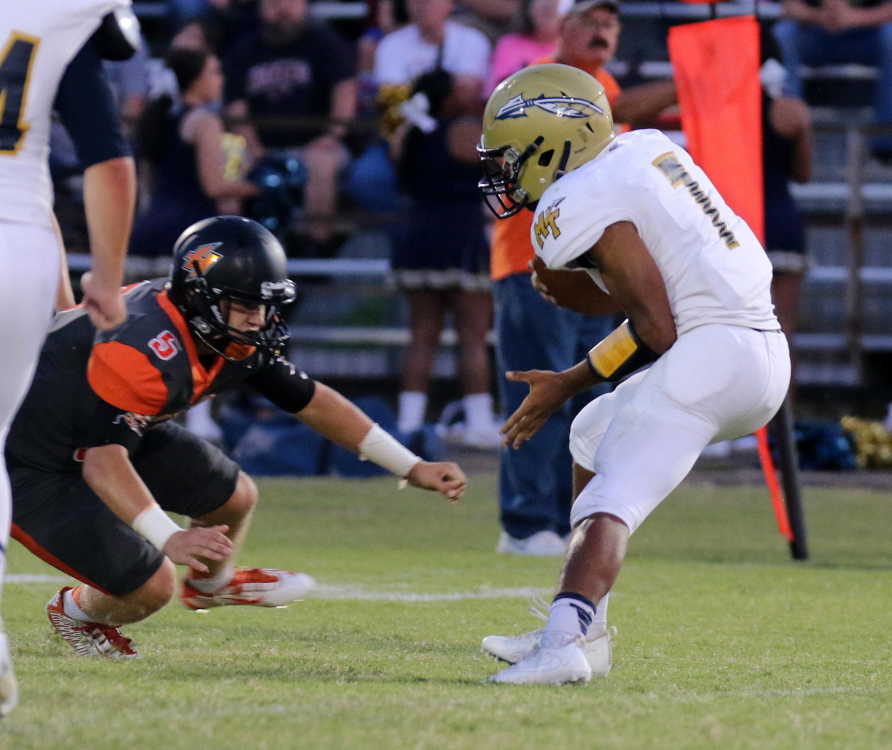 Clay Wright threw five touchdown passes and ran for another Harrisburg (2-0) built a 14 point lead at the half and stretched it to 27 in the third quarter on their way to a 48-34 win over the Indians (1-1) this past Friday at Hornet Stadium.
Marked Tree got the ball on their own 35-yard line after the kick-off went out of bounds to start their first series. The Indians' offense didn't find much success and was forced to punt the ball. Paul Coleman's punt traveled only 19 yards giving the Hornets the ball at midfield with 9:14 left. After getting Marked Tree to jump on fourth and eight, Gavin Casebier had trouble with a high snap as the Indians forced a turn over on downs taking over at their own 49-yard line with 7:51 left. Marked Tree moved the ball down to the Harrisburg 31-yard line before Coleman made a great one-handed catch out of backfield and raced 31 yards for the touchdown. Julian Booker found Jamaria Anderson for the two-point pass making it 8-0 Indians with 6:05 left. Harrisburg answered on their next possession as a 49 yard screen pass to Lance McGinnis moved the ball to the Marked Tree two-yard line where Clay Wright finished the drive with a one-yard touchdown run with 4:22 left. Dylan Mathis was good on the extra-point making the score 8-7 Indians. Marked Tree answered the Harrisburg score with a drive that ended with Coleman galloping 31 yards for a touchdown to make it 14-7 Marked Tree. Booker's pass to Eli McCrary on the two-point play was no good with 1:08 left. Mathis returned the ensuing kick-off to the Harrisburg 48-yard for the Hornets next series. Harrisburg moved the ball to the Marked Tree 28-yard line as the quarter came to an end with Marked Tree up 14-7.
Full game article in September 14 edition of the PCDT!