College savings program starting in Delta
Monday, September 18, 2017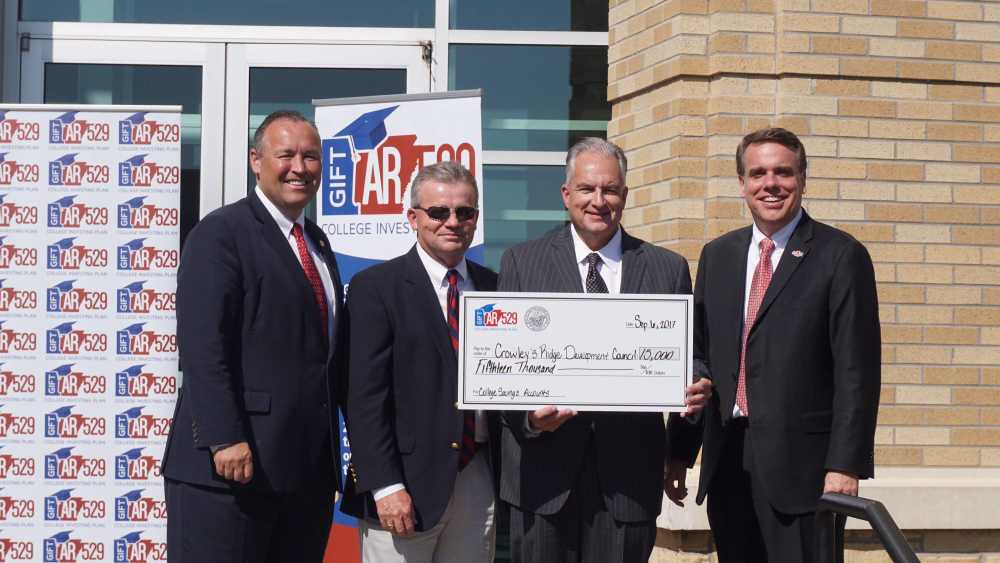 Crowley's Ridge Development Council (CRDC) are partnering with State Treasurer Dennis Milligan, whose office administers the Arkansas 529 College Investing Plan, to launch a college savings partnership to benefit first graders in the Delta region.
Poinsett County was selected for the pilot program, and one of the reasons for that is that the county has a poverty level of about 22 percent. According to Milligan's office, CRDC is seeding around 1,900 college savings accounts, and the Arkansas 529 College Investing Plan is matching those funds up to $15,000, which Millgan presented to the CRDC in a ceremony at Arkansas State University last week. CRDC has a goal of $28,600 to start accounts for the estimated 280 first graders in the county.
The Arkansas 529 program is tax-advantaged savings plan to help Arkansans save for their children's college education. Milligan said the plan can be used for traditional college or a two-year technical college, as long as the school is accredited. The money will follow the child, whether they attend a college in state or out of state, and if the fund is not used in its entirety, the money can be transferred to another child in the family. There are nine options for how to invest the money, and it can be used for anything the child needs for college such as tuition, books, or room and board.
Milligan said the main thing that makes the savings plan affordable is the state income tax deduction that comes with it, which is $10,000 for married couples and $5,000 for single people. "If you can pay state income tax, you can afford a 529," Milligan said. "The other beauty is you can open one for as little as $25, and you can contribute to one for as little as $10 a month. No matter your financial situation, it is extremely affordable."
Over the next few weeks, CRDC staff will be reaching out to parents about the program and will help them complete the necessary paperwork to get started.
"This is a great opportunity to give all our kids the opportunity to further their education," Milligan said.