Dorcas Wyatt
Thursday, September 28, 2017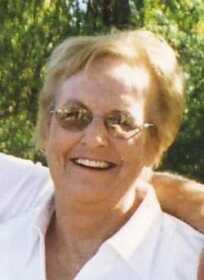 TRUMANN - Mrs. Dorcas Brock Wyatt, 76, departed this life Sunday, September 24, 2017 in Jonesboro, Ark. She was born May 17, 1941 and was a lifetime resident of Trumann. She worked at Salant & Salant for many years where co-workers became friends, and friends became family. Upon leaving Salant, she was co-owner of B & W Auto Sales. Throughout the years of owning/operating B & W her life and her love of the Lord spread far and wide. It was at retirement that her love and passion for gardening flourished as she took great pride with each flower that bloomed. Her walks through her flower gardens will forever be etched in the hearts of family and friends. She began teaching Adult Ladies Sunday School in 1987 and continued in this position for 26 years and was a member of Maple Grove Baptist Church. She was preceded in death by her husband, Hershel Wyatt; and her parents, Rufe and Leona Richards Brock.
She is survived by two daughters, Carrie (Steve) Hendrix of Trumann and Pamela Castille of Lafayette, La; four grandchildren, Jodi (Ronnie) Richardson of Jonesboro, Wyatt (Meghan) Kenley of Trumann, Julia Nicole Castille of Orlando, Fla. and Adam (Brooke) Sloan of Paragould; eight great-grandchildren, Connor and Chloe Richardson of Jonesboro, Emmie and Maggie Kenley of Trumann, Gunner and Madailla Baine of Trumann, and Zayne and Zander Sloan of Paragould; sister-in-law, Erma Sue (Bobby) Walton of Trumann and brother-in-law, Lonnie (Tami) Wyatt of Lepanto.
Funeral services were held September 27th at Maple Grove Baptist Church with Rev. Jim Duvall officiating. Burial followed at Jonesboro Memorial Park Cemetery.
Pallbearers were Lonnie Wyatt, Jared Wyatt, Josh Wyatt, Derek Walton, Darin Walton and Ronnie Richardson. Honorary pallbearers are the Ladies Adult Sunday School Class of Maple Grove.
Lasting memorials can be made to Maple Grove Baptist Church, 13509 Maple Grove Lane, Trumann, AR 72472.
An online register book can be signed at www.thompsonfuneralhome.net