Marked Tree shutsout EPC in conference openr
Thursday, September 28, 2017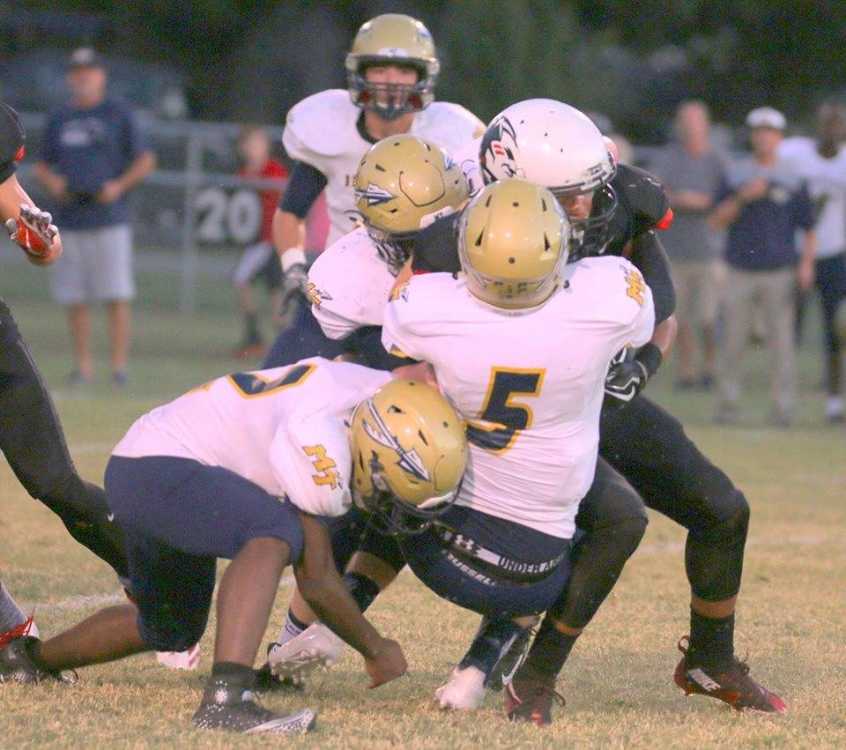 Marked Tree (3-1, 1-0) shut down EPC's (3-1, 0-1) running game as the Indians claimed a 38-0 win over their rival Warriors in the conference opener for both teams at Warrior Field in Lepanto.
EPC got he ball first and turned it over to Marked Tree as Jonathan Gilmore coughed up the kick-off return with the Indians recovering at the EPC 33-yard line. Marked Tree capitalized on the turnover as they drove down and scored on an eight-yard run by Julian Booker to make it 6-0. Paul Coleman added the two-point conversion run making it 8-0 Indians with 9:22 left. EPC returned the ensuing kick-off to their own 45-yard line. Facing fourth and thirteen, Andrew Harston hit Eric Driver who took the ball to the Marked Tree two-yard line to make it first and goal with 6:57 left. The Indians' defensed stiffened and forced a fourth and goal as Justin Ellis batted down the pass attempt to give Marked Tree the ball on their own four-yard line. After a loss of two yards, Coleman ran a sweep left, hit the sideline and sprinted 98 yards for the touchdown. Booker's two-point pass attempt fell incomplete leaving the score 14-0 Marked Tree with 4:24 left. The Warriors started their next drive on the EPC 48-yard line. A gain of four on first down was erased when Dee Buchanan was dropped for a nine-yard loss on a sweep play. Harston was flushed from the pocket on third down and came up six yards short of the first down. Hunter Taylor got off a good punt where AJ Johnson tried to scoop the ball and get away from Andrew Cavitt who made the tackle at the EPC eight-yard line. Marked Tree moved the ball into EPC territory thanks to a 37 yard pass to Lowry as the quarter came to a close.
Complete game article in September 28 edition of PCDT on newsstands now!