Junior Hornets hold on to beat Junior Wildcats
Thursday, October 19, 2017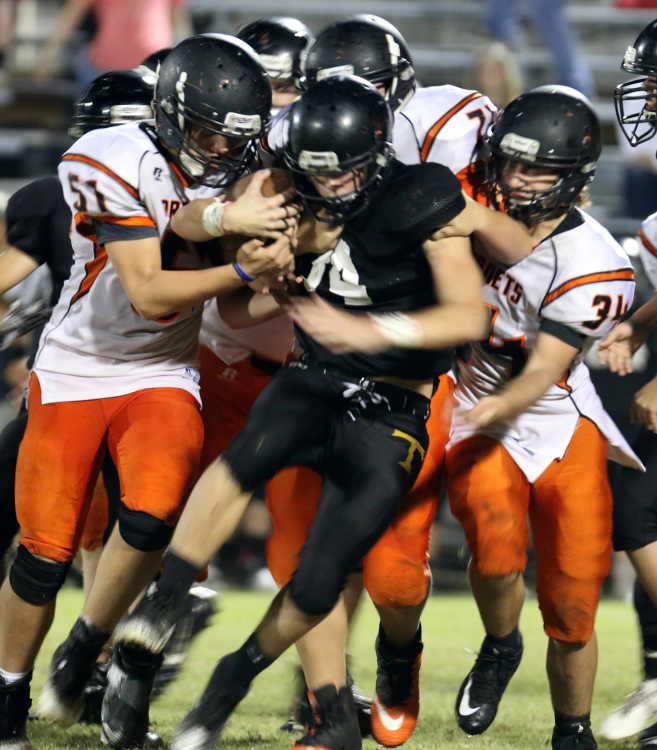 Defense was the name of the game last Thursday as the Harrisburg (3-3, 2-3) defense scored what proved to be the winning touchdown before holding Trumann (3-4, 1-4) on downs with less than a minute left to preserve a 13-12 win at Wildcat Stadium.
Harrisburg received the ball to start off the game as James Pender returned the kick-off out to the Junior Wildcats 47-yard line. The Junior Wildcats forced Harrisburg to punt the ball as Colby Summers' punt was downed at the Trumann 30-yard line with six minutes left. Gaven Guy had a good run before coughing the ball up as the Junior Wildcats recovered at their own 43-yard line. Trumann drove to the Harrisburg 11-yard line before the first quarter ended with the score 0-0.
Guy finished the Trumann drive with a six yard touchdown run to make it 6-0 Junior Wildcats with 5:07 left in the second quarter. Connor McClain was stopped on the two-point conversion run. River Carter returned the ensuing kick-off out to the Harrisburg 45-yard line where the Junior Hornets started their next possession. Harrisburg put together a 55 yard drive that ended with Pender scoring from a yard out to make it 6-6. Kaden Lindsey's extra-point was good giving the Junior Hornets a 7-6 lead with 51 seconds left. Harrisburg's Jacob Wallace picked off a McClain pass and returned it to the Trumann 29-yard line as the quarter ended with the Junior Hornets up 7-6.
Full game story in October 19 edition of the PCDT on newsstands now!