Truman shuts out conference rival Harrisburg
Thursday, October 19, 2017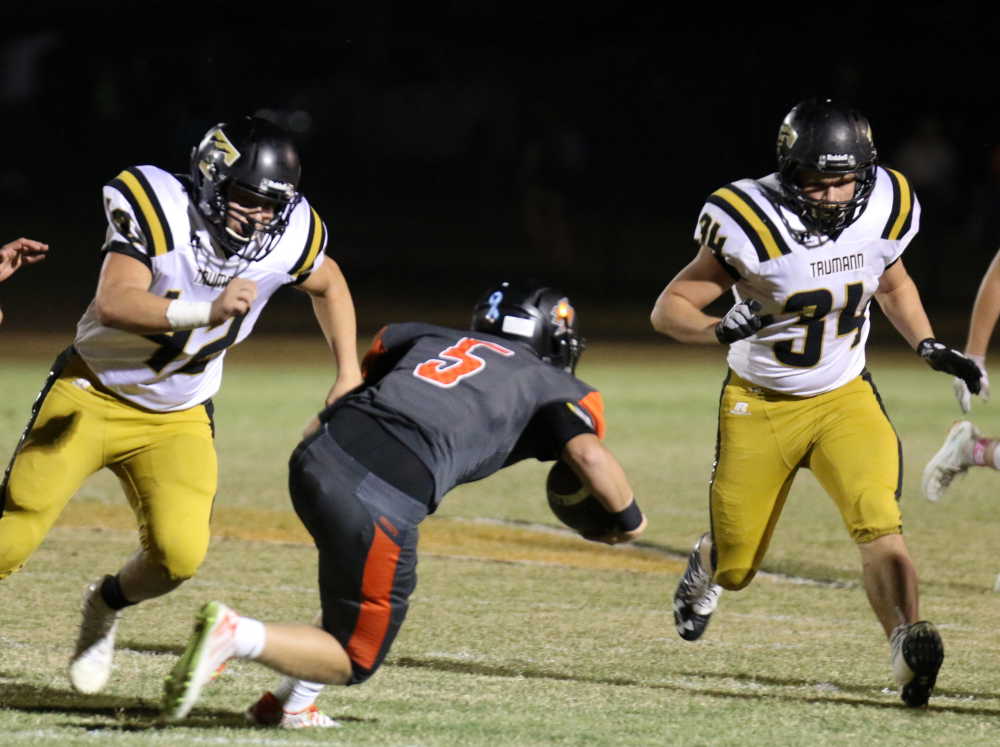 Trumann (6-1, 3-1) jumped out to a 21-0 first quarter lead over Harrisburg (3-4, 1-3) on their way to a 55-0 win this past Friday at Hornet Stadium. The win keeps the Wildcats in the conference title hunt as Harrisburg is fighting for a playoff spot.
Harrisburg's kick-off went out of bounds to start the game as the Wildcats had them re-kick the ball. White took the kick-off and returned it to the Harrisburg 44-yard line. A horse collar penalty on Harrisburg moved the ball to the Hornets' 29-yard line. It took Trumann three plays to reach the end zone at Jay Morgan raced 15 yards for the score. Will White as good on the extra-point to make it 7-0 Trumann with 10:39 left. Dylan Mathis fell on the short high kick-off the Harrisburg 33-yard for the Hornets' first possession. The Hornets went for it on fourth down with Clay Wright's pass to Weston Stanford coming up short. A face mask penalty against Trumann gave the Hornets a first down. Harrisburg moved the ball to the Trumann 22-yard line before a fourth down pass fell incomplete giving the Wildcats the ball. Trumann wasted little time as Gartman took the sweep right before cutting back across the field around midfield outrunning everyone to the end zone for a 76 yard touchdown run with 5:53 left. White added the extra-point making it 14-0 Trumann. Mathis returned the kick-off to the Harrisburg 26-yard line for the Hornet's next series. Wright hit Gavin Casebier who moved into Trumann territory before being hit and coughing the ball up with Cody Lawson recovering for Harrisburg at the Wildcats' 42-yard line with 4:35 left. Alex Moses ended the Harrisburg drive with an interception for Trumann returning the ball to the midfield. A block in the back against the Wildcats moved the ball back to the Harrisburg 43-yard line. Trumann capitalized off the turnover as they drove to the Harrisburg 15-yard line where Gartman scored to make it 20-0 Trumann. White again added the extra-point to make it 21-0 Trumann with 48 seconds left in the first quarter. Jamason King had the ball jar loose on the kick-off return for Harrisburg as Moses scooped up the fumble and returned it to the Hornets' 31-yard line. The quarter ended with Trumann on the Harrisburg 22-yard line.
Complete game article in October 19 edition of the PCDT!