Indians' football season ends with loss to Mount Ida
Wednesday, November 22, 2017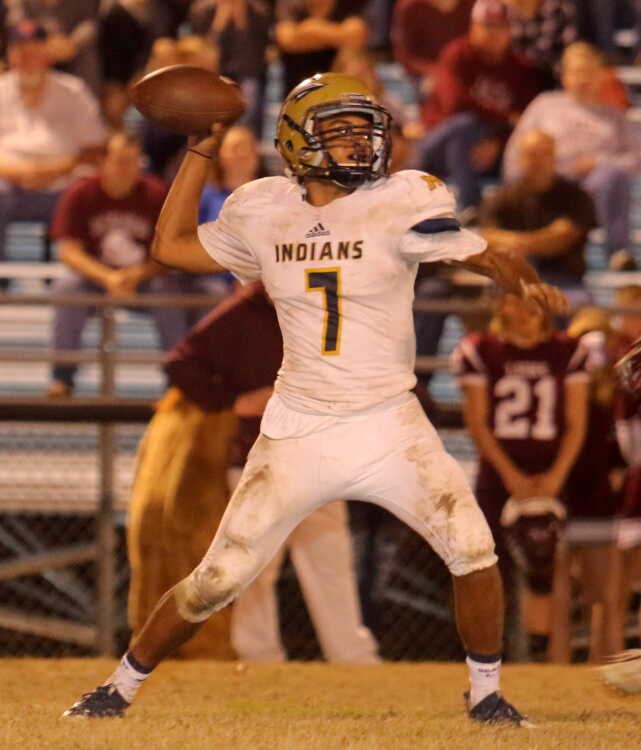 Marked Tree (8-3) traveled to Mount Ida to take on the defending Class 2A state champion Lions in the second round of the high school state football playoffs this past Friday. The Lions scored on each of their seven possessions in the first half while adding a special teams score to go up 56-6 at the half on their way to a 56-22 win.
Marked Tree got the ball first as Chris Ivy returned the kick-off to the Indians' 25-yard line. Marked Tree punted the ball away on their first drive with Mount Ida returning the ball to the Indians' 29-yard line with 10:22 left. The Lions put together a drive that was capped by a one yard touchdown run to make it 6-0. The extra-point was good making it 7-0 Lions with 8:32 left. Marked Tree started their next drive on their own 20-yard line after the ball sailed into the end zone. The Indians turned the ball over after a fumble on a high snap was recovered by the Lions at the Marked Tree 17-yard line. Mount Ida scored on a 17 yard run to make it 13-0 with 8:03 left. The point-after was good making it 14-0 Lions. Eli McCrary took the short kick-off and returned in to the Marked Tree 40-yard line. The turnover bug would hit Marked Tree again as Julian Booker's pass was intercepted and returned to the Indians' 24 yard-line with 7:46 left in the opening quarter. The Lions took advantage as they found the end zone on a five yard run to make it 20-0. The extra-point good making it 21-0 Mount Ida with 6:03 left. Ivy returned the ensuing kick-off to his own 40-yard line for Marked Tree's next series. The Indians had to punt the ball back to the Lions as the punt was downed at the Mount Ida 13-yard line. Coleman got a big sack on second down before Chaz Simmons stepped in front of a middle screen pass for the interception and returned the ball to the Lions' 45-yard line. Marked Tree lost four yards on their three plays before the quarter ended with Mount Ida up 21-0.
Complete game article in November 23 edition of the PCDT!