Red Wolves win to become bowl eligible
Wednesday, November 22, 2017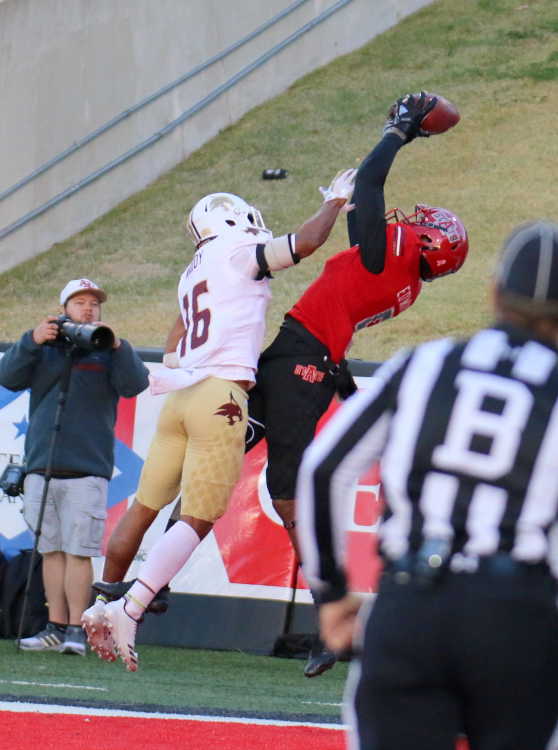 Arkansas State beat Texas State 30-12 this past Saturday at Centennial Bank Stadium to become bowl eligible for the seventh years in a row, a feat no other Arkansas college has accomplished.
The Bobcats jumped out to an early 6-0 lead before the Red Wolves scored the next 16 points to take a 16-6 lead after one. Sawyer Williams kicked a 39 yard field goal to make it 6-3 Texas State with 9:35 left. Warren Wand scored on an eight-yard run as Williams added the point after to make the score 10-3 Red Wolves. Justice Hansen dove into the end zone from a yard to make the score 16-3. Williams missed the point-after. The teams were both scoreless in the second quarter. Texas State scored again with 10:51 left in the third quarter. The extra-point kick was blocked by ASU. Hansen added his second one-yard touchdown run as Williams added the point-after to make the score 23-12 Red Wolves with 4:54 left in the third quarter. Kendrick Edwards made a nice catch for a 12 yard touchdown with 13 seconds left in third. Williams added the PAT to make the score 30-12 Arkansas State. Neither team found the end zone in the fourth quarter.
Wand led ASU with 29 carries for 146 yards and a touchdown while catching three passes for 26 yards. Hansen went 20-33 for 229 yards and a touchdown while adding two rushing touchdowns. Edwards and Omar Bayless each had three catches for 45 yards with Edwards having a touchdown catch. Ja'Von Rolland-Jones and Kyle Wilson each had seven tackles with Rolland-Jones recording two sacks. Those two sacks gives Rolland-Jones 41.5 career sacks putting him two and a half sacks short of tying the record of 44 sacks held by Terrell Suggs.