Lady Wildcats pull away in second half for win
Wednesday, November 22, 2017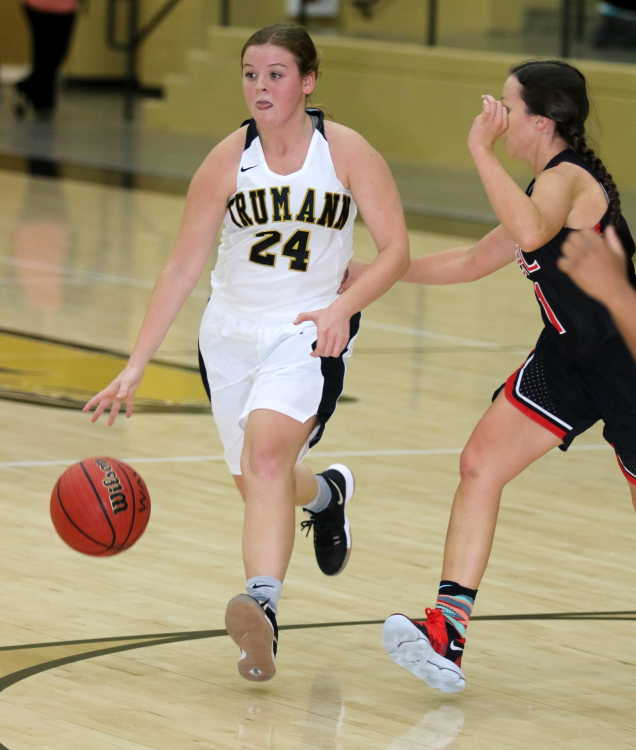 The Trumann Lady Wildcats held EPC to four points in the third quarter to break open a close game on their way to a 36-24 win over the Lady Warriors this past Monday in Trumann.
The Lady Warriors jumped out to a 5-0 lead as Markiya Ward canned a three-pointer and Madison Wiggins put back an offensive rebound only to see Olivia Greenwell drill a three-ball for Trumann before Tay Smith hit a jumper in the lane for the Lady Wildcats to tie the game at 5 with 1:16 left. Bre Ward hit one of two free throws for EPC with 26 seconds left to give the Lady Warriors a 6-5 lead after one.
Anna Waleszonia canned a three-pointer for Trumann to open the second quarter as Bre Ward answered with a three-pointer for the Lady Warriors to make the score 9-8 Trumann with 5:24 left. Tileyah Ward scored back to back baskets for EPC before Kayla Spence hit a jumper for the Lady Wildcats to make it 13-10 EPC. Trumann got an inside basket from Mycha Wilson, one of three free throws from Greenwell after being fouled shooting a three-pointer and a jumper in the lane from Tybra Crockett to give Trumann a 15-13 lead at the half.
Full game story in November 23 edition of the PCDT!