Lady Wildcats lose heartbreaker to Gosnell
Thursday, December 7, 2017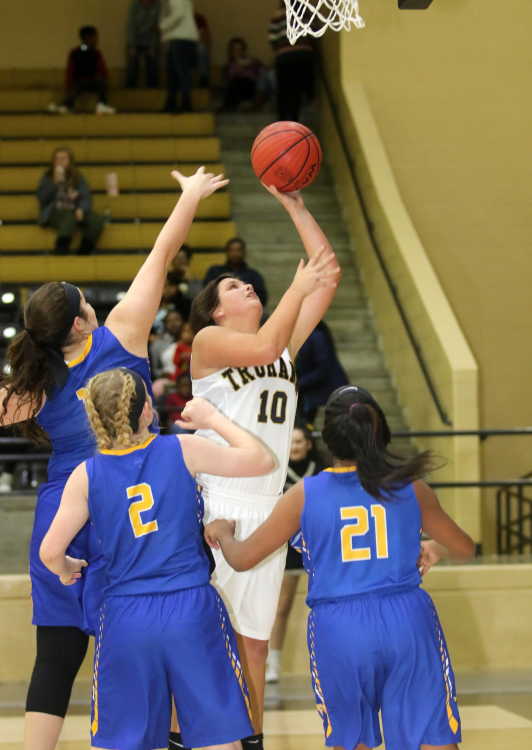 Trumann led a 10 point halftime lead slip away as the Lady Pirates scored a late basket and then intercepted the inbound pass to seal a 45-43 win over the Lady Wildcats this past Thursday in Trumann.
Mycah Wilson scored inside and Olivia Greenwell made a reverse layup for Trumann to go up 4-0 only to see Gosnell hit three of four free throws on back to back trips to the line making the score 4-3 Lady Wildcats. Wilson hit one of two feee throws for the Lady Wildcats as Gosnell got a stick back basket to make the score 5-5. Trumann reeled off the next 10 points as Tay Smith canned a three-ball, Heavenly Lofton converted an old-fashioned three-point play, Daly Taylor hit a jumper in the lane before Greenwell hit a baseline jumper making it 15-5 Lady Wildcats. Gosnell scored inside right at the buzzer to make the score 15-7 Lady Wildcats after one.
Gosnell got back to back baskets early in the second quarter to cut the lead to 15-11 as Kayla Spence's jumper in the lane make it 17-11 Trumann with 3:51 left. The Lady Pirates scored inside only to see the Lady Wildcats get an inside basket and a jumper from Taylor and a steal layup from Selena Lopez at the buzzer to make the score 23-13 Lady Wildcats at the half.