Marked Tree gets home win over rival EPC
Thursday, December 7, 2017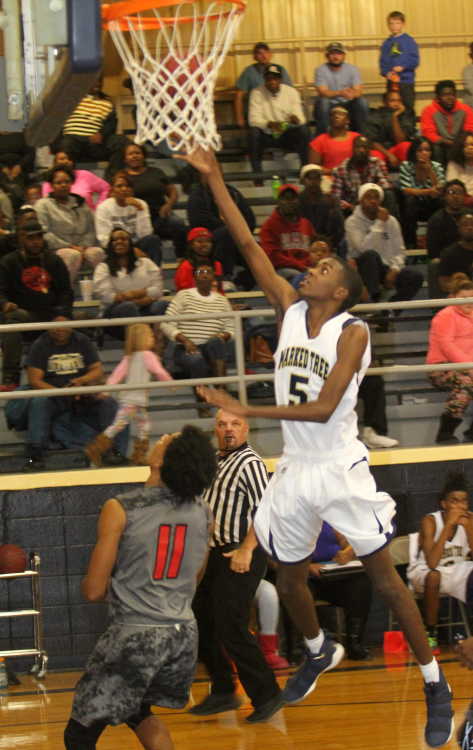 Trayvius Brown hit six three-pointers on his way to 26 points for Marked Tree as the Indians downed conference rival EPC 63-46 in high school basketball action this past Tuesday in Marked Tree.
Colby Malone got the Indians on the board first with a fast break layup before Trayvius Brown canned a three-ball making it 5-0 Marked Tree. Markel Perry scored inside for the Indians, Trayvius Brown canned another trey before Isaiah Taylor drilled a three-pointer from the right corner for EPC to make the score 10-3 Indians with just over three minutes left. Trayvius Brown was good on another three-ball for Marked Tree, Travis Joplin made a layup for EPC, Perry stuck back a rebound for the Indians as TJ Bush hit one of two free throws for the Warriors making it 15-6 Marked Tree with 1:58 left. Dee Buchanan drilled a trey for EPC as Malone hit one of two free throws for the Indians to make the score 16-9 Marked Tree at the end of one.
Malone scored inside for Marked Tree as Jonathan Gilmore had a stick back basket for the Warriors to make it 18-11 Indians early in the second quarter. EPC scored the next six points as Taylor hit one of two free throws, Gilmore scored in the paint and Buchanan drilled another three-ball to make it 18-17 Marked Tree. Trayvius Brown netted a jumper and followed with a three-pointer for Marked Tree making the score 23-17 as Gilmore got a stick back for EPC making it 23-19. The Indians ended the half on an 11-0 run as Trayvius Brown netted a three from the left wing, Jack Brown hit one of two free throws before scoring down low, Malone scored off the break and followed with a basket inside as Julian Booker hit one of two free throws making it 34-19 Marked Tree at the half.
Full game article in December 7 PCDT!