Trumann Fire Department welcomes new truck, plans expansion
Friday, December 8, 2017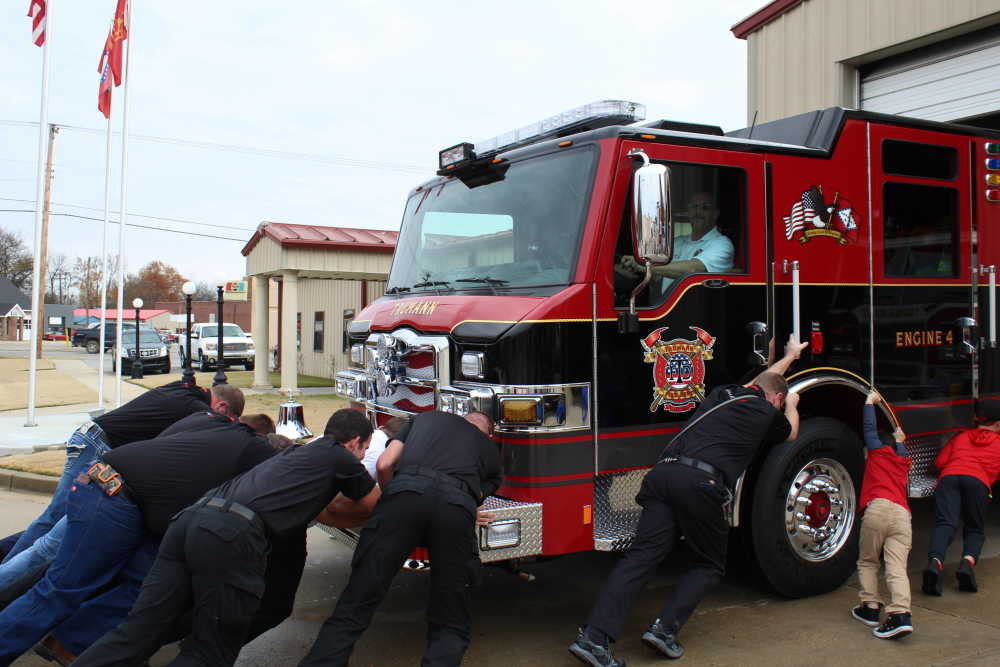 The Trumann Fire Department recently welcomed a new custom-built pumper truck to the fleet, and they are looking to grow further with a new substation that's in the works.
Fire Chief Revis Kemper said the new truck, a 2018 Pierce pumper, arrived on Nov. 21. The truck, which they've labeled Engine 4, is one they designed from the ground up. "It's bigger," Kemper said. "It's got twice the storage space, and it will pump more. It's a 1,500 gallon per minute pumper instead of 1,250."
Engine 4 was originally around $630,000, which includes $85,000 worth of equipment. But the Trumann Fire Department were able to save money by getting the equipment tax free in addition to getting a pre-pay discount for paying early, and they saved three percent by buying it before February when the price would have gone up.
The department welcomed the new truck with a ceremony involving around 50 people. Kemper said he invited the city council, the mayor, firefighters and their families, and retired firefighters and their families. They sprayed the truck down, and 19 people helped push the truck into the bay. In the two weeks it's been in operation, Kemper said they have run the truck on about 30 calls so far.
Regarding the new fire substation, Kemper said the plan is to build it on Firestation Road on the north side of town in the industrial area. He said they plan for it to be 40x70 feet with four bays.
Initially, it will be for storage only and will store an engine, ladder truck, and miscellaneous items as space has gotten tight at the main station.
Having a new substation will also give the fire department a bigger footprint in the city, which will help improve the station's ISO rating. Kemper also hopes the substation can be manned in the future once they are able to get an office space put in. Once it can be manned, he wants to have it manned Monday through Friday, eight hours a day. Kemper said his ten-year goal is have it manned 24 hours a day, so there are at least two guys, one at each station, manning both stations all day.
"The new station is long overdue," Kemper said. "We can't even fit a lawnmower over here. We've had this station since about 2000, and we've outgrown it."